Singapore Tourism Board, Weixin Pay Ink 3-Year Strategic Partnership
2023.04.21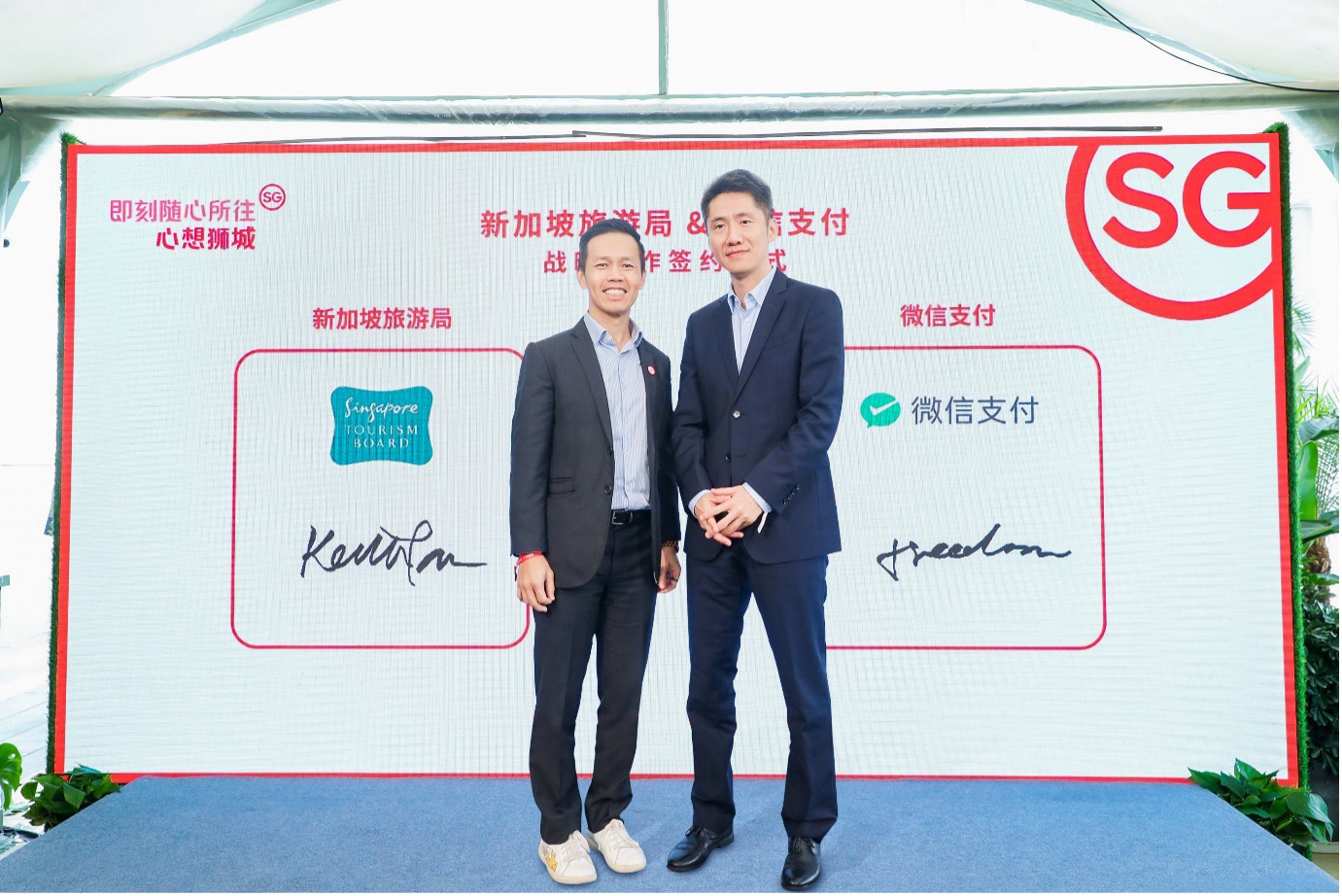 The Singapore Tourism Board (STB) and Weixin Pay on April 21 entered into a strategic agreement in Shanghai.
Keith Tan, Chief Executive of STB, and Freedom Li, President of Weixin Pay International Business, signed the 3-year agreement that pledges to bring smarter and more convenient traveling experience to Chinese tourists. The two sides will also leverage the vibrant Weixin ecosystem to promote the digital transformation of various industries in the city-state.
"We look forward to the return of Chinese tourists, for whom Weixin Pay is a popular digital tool, and we hope this strategic partnership will enable tourists to enjoy even more lifestyle experiences in Singapore," said Andrew Phua, Executive Director of Singapore Tourism Board for Greater China. He also added that Singapore merchants can leverage Weixin's ecosystem to further upgrade their digital capabilities to better serve Chinese consumers.
Weixin Pay's Li noted Singapore is a popular destination for outbound Chinese tourists and a market that Weixin Pay attaches great importance to. "In the past, we have collaborated with the STB to promote the popularity and development of digital payment. We will work together further to provide digital solutions based on the Weixin ecosystem to create high-quality cross-border smart travel experiences for Chinese tourists," said Li.
The strategic partnership came ahead of China's May Day holiday, also known as Golden Week holiday. The signing ceremony also highlighted multiple measures to attract Chinese tourists to Singapore from May 1 to Oct 31, in partnership with dozens of top key merchants in Singapore, including Jewel Changi Airport, CapitaLand malls, Mandai Wildlife Reserve and Sentosa. For example, Chinese tourists can enjoy a 20% discount on at selected stores when spending via Weixin Pay.
According to China's online travel agency Ctrip, orders for outbound travel from the Chinese mainland as of April 6 increased 18-fold over the same period last year, while the search volume for international air tickets for the upcoming May Day holiday has increased by more than 9 times year-on-year. Singapore is among the top 10 popular destinations for outbound Chinese travelers, and their arrival is expected to help stimulate economic growth in the country.
Against this background, local merchants in Singapore are actively embracing the Weixin ecosystem to welcome the return of tourists from China. Grab, Southeast Asia's leading superapp, launched its Weixin Mini Program in December last year, enabling Weixin users to directly access ride-hailing services in more than 500 cities across eight Southeast Asian countries, including Singapore. The Mandai Wildlife Group also made comprehensive use of Weixin Pay and other features of the Weixin ecosystem, such as Official Accounts, Channels and Mini Programs, to enhance customer experience and loyalty. Visitors can now easily purchase tickets, rent baby strollers and access other services through a Mini Program.
The STB has also made active use of the Weixin ecosystem to deepen its connection with Chinese consumers. In addition to opening an official account and an account on Channels to promote the country's tourism, the STB has also newly revamped the "Visit Singapore" Mini Program, which includes travel information, policy introduction, itinerary planning and other functions. This provides one-stop services to Chinese tourists, such as travel tips and FAQs, to make the most of their trip.
Today, Weixin Pay is available in all kinds of everyday services that matter most to Chinese tourists abroad, such as F&B, retail, department stores, hotels and other popular attractions. Furthermore, drawing on the practices of supporting the digital transformation of small and medium-sized enterprises in China, with the easy-to-use tools, Weixin Pay has helped nearly 10,000 Singapore hawkers go digital, enabling Chinese tourists to immerse themselves in authentic local culture.