Dreaming Big: From "Left-Behind" to the World Cup
2021.09.07
Wenbo is one of millions of Chinese children who grew up under the tutelage and guidance of his grandparents. His parents, like millions of other young people in China, headed to one of the country's big economic centres in search of work, leaving Wenbo behind with his grandparents in Harbin.  
There are around 61 million of these so-called "left-behind children" who grow up without one or both parents, according to UNICEF. It's not a challenge unique to China, either. It's a phenomenon that is relatively common in developing countries, often resulting in children growing up with grandparents or other relatives who aren't physically able or don't have the financial resources to provide the emotional support, care and guidance that the children need. 
Wenbo is one of those children who struggled. We are using a pseudonym to protect his identity.
Wenbo became more withdrawn and easily agitated in third grade, not long after his parents divorced and he realized he would see even less of them. Neighbors spotted the young soccer fan walking home from school alone, kicking a pebble along the way, and not wanting to interact with other people.
His teacher, Ms. Huang, noticed Wenbo's interest in soccer and thought that it might ignite a passion in the young boy and fill a gap in his well-being. She turned to Project Hope, a non-profit program whose mission is to finance education for impoverished students. The group was determined to help, and began providing financial support to Wenbo's school. 
Donations from the program's "Happy Soccer" project helped build the school's first artificial soccer pitch, giving the brand new team a place to practice. Volunteers also stepped up as coaches for a 52-day soccer camp for students at Wenbo's school, with the goal to get them started on team sports. 
On one afternoon in the spring of 2015, Ms. Huang registered Wenbo for the school's soccer team tryouts, forever changing his life. From then on, the boy became devoted to the sport and trained regularly with Xiao Rao, a student at the Xi'an Physical Education University and a volunteer for Project Hope.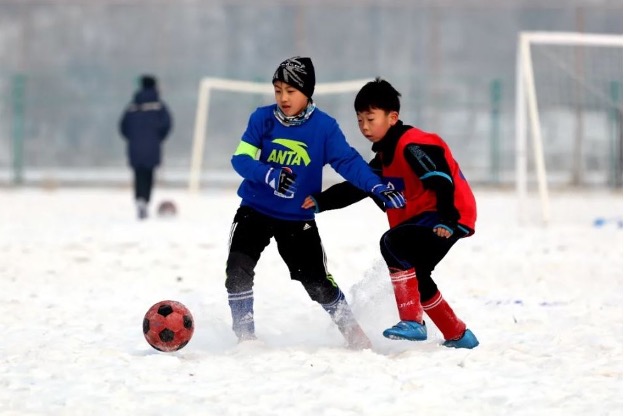 When the camp ended, Xiao Rao gave Wenbo his first pair of leather soccer shoes as a farewell gift. These shoes became his trusty sidekick and he wore them for every vigorous practice. Wenbo became the captain of his school's soccer team and was admitted to Harbin No. 39 Secondary School for his exceptional achievements in soccer. In 2017, he began representing Harbin and Heilongjiang Province at national and global youth soccer tournaments.
That same year, Wenbo had a new aspiration – to attend the 2018 FIFA World Cup in Russia as a youth flag bearer. The hours that he spent practicing his English vocal and listening skills paid off – he beat other hopefuls to become the youngest flag bearer at the international soccer event.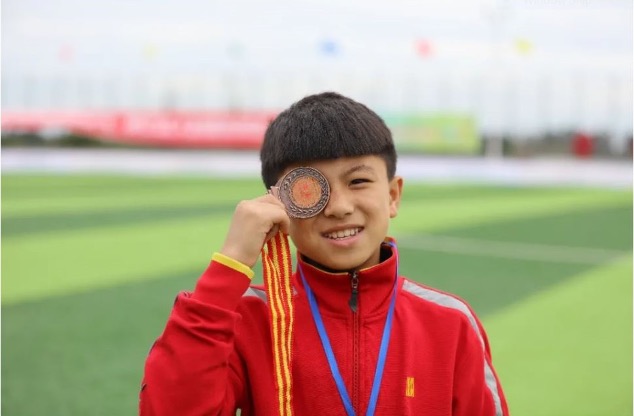 What's next in Wenbo's life? The now 16-year-old hopes to continue with his soccer training after the pandemic, become a student at Shenyang Korean Ethnic Minority No.1 Middle School, known for its soccer team, and eventually go pro. Following in the footsteps of his mentor from Project Hope, Wenbo gifts other aspiring soccer fans with sports shoes that he receives from donors. "I received help from others. Now I hope to pass on the kindness myself," he says. 
Project Hope's "Happy Soccer" program has enriched the lives of Wenbo and other left-behind children, giving them courage, joy, strength, and the means to improve their social skills. 
Co-founded by the China Youth Development Foundation in 1989, the project has raised approximately RMB 16.1 billion, funded the education of around 6.2 million students in need, and helped build more than 20,000 schools by the end of 2019. The success also drew the attention of Tencent's 99 Giving Day, with the Tencent Charity Foundation matching millions in donations and expanding the platform to businesses.
With 99 Giving Day held each September, it's time to focus again on those who need help.
We have a wish – to support the long-term development and empowerment of youth like Wenbo so that they have the tools and knowledge to fulfill their potential.