How 3D Technology Makes an Office Tour More Immersive
2021.10.12
Immersive media technology has long promised a new frontier in digital experiences -- the ability to recreate the real world, or imagine a new one, at a high level of detail. That promise has often been delayed by the complex software demands and high equipment costs required to create immersive content. But a new project by Tencent America may have found a new path forward, born from the need to keep work-from-home colleagues connected.
Tencent America opened a new Los Angeles headquarters in June, just as the delta variant of COVID-19 was spreading and return-to-work plans were being delayed. Engineers and immersive media experts at Tencent America came up with a way to build a 3D tour of the new office without having to rely on expensive, custom-designed capture tools.
The office tour, which can be viewed online, was built using Tencent's PointCloud 3D technology, which relies on simple, still images from inexpensive, off-the-shelf cameras. These images are then added to Tencent's own advanced 3D PointCloud reconstruction algorithms, which estimates the three-dimensional shapes and objects in the images to create an immersive experience.
"We see this as an excellent example of how immersive media can play a much bigger role in the future," said Tencent Media Lab General Manager Dr. Shan Liu. "Immersive media can make a viewer feel they're part of the story and engaging with it as they explore a new space."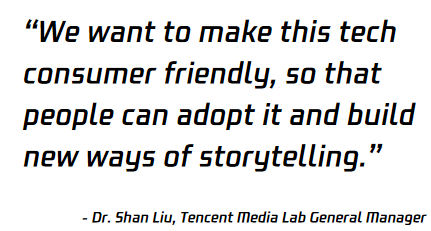 Capturing the real world in 3D still relies on special cameras that record data about spatial relationships, using tools such as LIDAR, that can then be stitched into a 3D model. The PointCloud technology uses simple panoramic cameras available in any electronics store. They are spaced out in a precise way to create images that are then analyzed in software to create a 3D model. The traditional method of creating 3D models would have required an entire professional team for a 5,000-sq. ft. space, but this new technology enabled Tencent to capture the same information using just one person over 24 hours.
The result isn't just pictures blended together, but a true 3D representation of the entire building. The Tencent immersive media team also developed an iOS App which provides a one-step, capture-to-share service that makes the entire process more friendly to use. The team believes the whole process can be done automatically; after the images are processed using the new 3D technology in the cloud, a ready-to-share link to a high-resolution 3D model would be generated automatically for the end-user to experience.
Since the result is a digital copy of a real-world space, a user can experience "walking" through the building instead of just looking at pictures. Liu said this step was key because it could help broaden immersive creation beyond professionals to casual users and spur more real-world demand. The possibilities are endless, such as allowing real estate agents to offer more detailed experiences, or museums to showcase art in a more compelling, impactful way.
Tencent America has been deeply involved in setting common standards for immersive media and expects immersive adoption to accelerate over the next decade. An office tour might not seem like a huge leap forward right now, but it's symbolic of the many innovations still to come.