Tencent Helps Elderly People Feel Included Online
2021.10.21
Old age can sometimes be difficult, especially for seniors that are less familiar with the digital tools we use each day to connect and get things done. However, for seniors willing and able to learn, mobile apps like Weixin can be vital lifelines by helping them communicate with loved ones, shop, and manage their personal finances. 
Tencent recently rolled out a program designed to help seniors succeed in a digital world, and now the Weixin team is exploring other ways to make the app even more useful to seniors. Weixin users mentioned three key areas that should be improved to make the app easier to navigate and keep seniors safer: provide better fraud alerts, use larger font sizes, and limit the number of popups. To address these three things, Weixin recently rolled out Easy Mode to create a simpler, safer environment. More than four million users have already activated Easy Mode as of October 6, 2021. 
Easy Mode is just the first step to address changing demographics. Many elderly people do not know how to navigate the internet, despite the fact many already have smartphones and other connected devices. For example, some living alone had a hard time shopping or accessing information online during the coronavirus lockdown. 
Elderly Weixin users take a course on how to use the app in the form of a television drama. 
According to surveys conducted by Tencent Research Institute, a majority of seniors want help with digital tools and services at home, while more than 90 percent hope their children and other family members can help them gain internet skills. More than 30 percent of those surveyed said their children are concerned that the elderly could become victims of online fraud.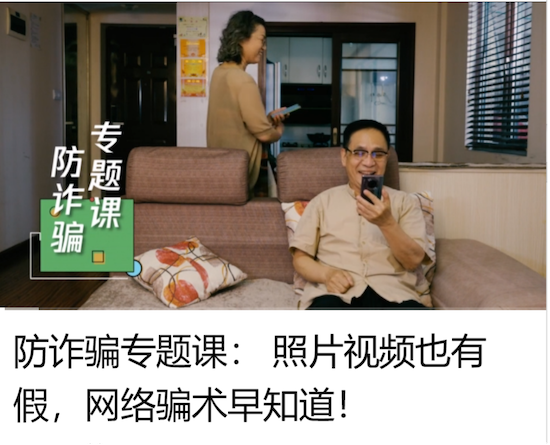 One episode of the dramatized course introduces common online fraud and how to identify them.  
To address these issues, Tencent held several well-attended training sessions for participants in their sixties and seventies. Some participants were willing to commute two to three hours to attend the sessions, which were led by university students who taught attendees how to use their smart devices to book a ticket, request a taxi, pay bills and manage their finances. 
The positive feedback and high demand for these in-person courses inspired Tencent and other public welfare groups to design a series of online courses to reach more people in need of a little extra help to join and thrive in the digital age.
Research shows elderly people are interested in topics relevant to their daily lives, so the online courses have been tailored to those kinds of subjects. Lessons were expanded to include other tasks such as making a medical appointment, identifying rumors, and avoiding fraud.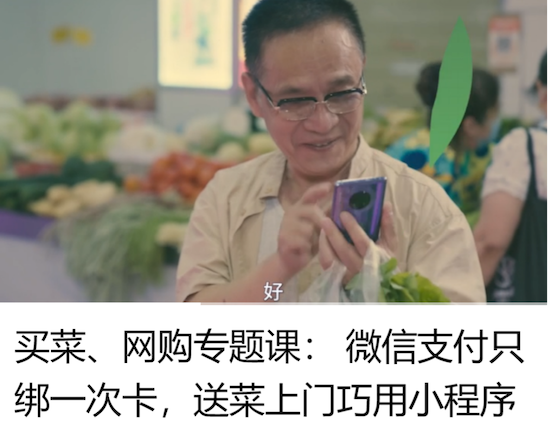 The actor shows elderly people how to make mobile payments and order food online. 
The online courses have been rolled out via a Weixin mini program called Academy for the Aged, giving participants the ability to check in and review tips anytime, anywhere. The Mini Program is part of Weixin's Golden Years Program, which was jointly launched with the other charity groups in September to help 10 million elderly people master digital skills in three years.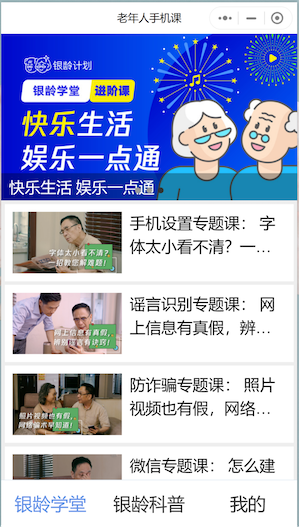 The "Academy for the Aged" Mini Program offers digital courses and useful information to help seniors identify and protect themselves from rumors and fraud. 
China surpassed one billion internet users this year, and the population over 60 years old will hit 500 million by 2050, accounting for more than one-third of the country's total population. It is more important than ever that all the advantages of the online world are available to everyone, regardless of age. Tencent is committed to making technology available to everyone by working with community partners to build a safe and friendly internet that safeguards the interests of all of our users.