TiMi Studio Group: the Next Chapter (Part II)
2021.12.13
Our global recruits tell us what it takes to create a AAA games studio
TiMi, a subsidiary of Tencent Games and headquartered in Shenzhen, is the creator of blockbuster mobile games. In less than three years, TiMi has four development studios emerging outside China, which will co-develop with studios at the TiMi headquarters in China to create next generation games.
In the first installment, seven global employees of TiMi shared their experiences, highlights and challenges so far. In this installment, they will talk about what lies ahead and how a commitment to international co-development will see TiMi join the ranks of AAA game makers.
How do you build complex games when everyone is working remotely? It's one of the challenges of the co-development (co-dev) model. But it's one of its greatest strengths too. Locations and time zones are no barrier to finding the best people for the job. And a mix of cultures and backgrounds can lead to brilliant ideas. It takes time to create a AAA game, but with a studio culture that embraces diversity, co-dev can make it happen faster.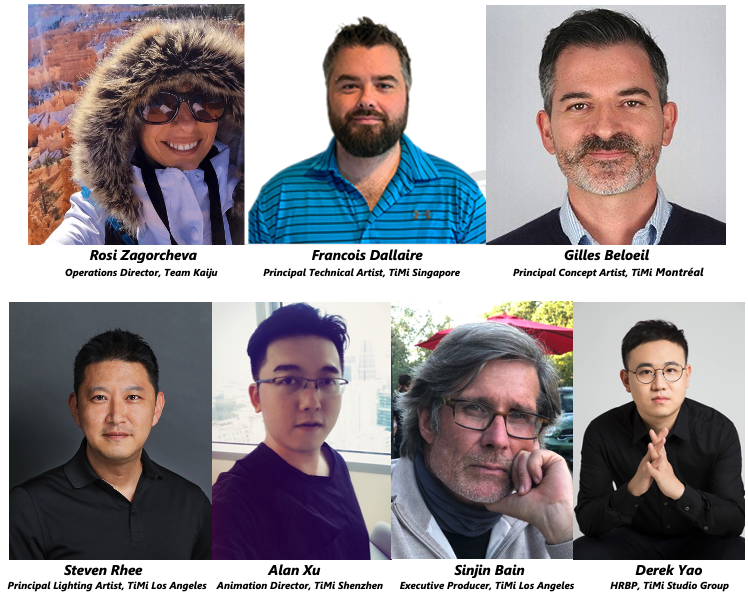 Rosi Zagorcheva, Operations Director, Team Kaiju
The biggest challenge is having to work completely remotely on something as creatively and technically complex as a game. What I find exhilarating is the challenge of building a new team, studio, and game remotely. I firmly believe that being "remote first" will be a competitive advantage for us in the future.
For Team Kaiju, working in a distributed way will become the norm, it's the future. Building a set of good processes for this early will set us up for success when we return to the office because we won't be limited to only working with people in the same region.
Steven Rhee, Principal Lighting Artist, TiMi Los Angeles
Implementing a robust global mobility program can help companies expand their talent pool by finding and hiring the best and most talented people anywhere, providing a powerful new level of diversity for organizations.
I have years of experience co-developing the Madden series with the EA Shanghai team. The language part has always been a challenge. On the other hand, it has the advantage of inducing diversity of products by sharing information and culture with Asia and the United States. I believe that sharing ideas and expertise creates new forms of culture.
Alan Xu, Animation Director, TiMi Shenzhen
Whether you're in Los Angeles, Singapore, Montréal, Shenzhen or Shanghai, it is very difficult to depend on a single studio in a single region to quickly build a complete and comprehensive team to develop AAA games. Every project I participated in at my former employers, there were studios in different regions and time zones for co-development. So co-dev is a shortcut for large-scale game development.
First of all, the ability to find talent is stronger when you can have teams in China, Canada, Singapore or the US.
Secondly, talent in each studio and region will have its own culture and way of thinking. This can limit the diversity and innovation of games. Multi-regional, multicultural teamwork can more easily break these limits of thinking, resulting in more creative collaborations.
Third, co-dev can help disperse the pressure of technology development. For example, one studio can be responsible for the single-player plot part, one can produce multiplayer online battles, and other studios can be responsible for shifted content, vehicles, creatures, high-precision digital characters etc.
Francois Dallaire, Principal Technical Artist, TiMi Singapore
When I was with my former employer, I had a 12-hour time difference with our co-dev studio in Shanghai. Being a function lead in the project, you get questions at any hour of the day, including in the middle of the night. So I had to put my phone on do not disturb. Do not bring work to bed, it's important.
You cannot impose your way of working on your co-dev studios. Different cultures excel in different environments. Some are better at figuring things out in teams, others by themselves, some people are shy in public, others thrive in it. Each collab should start with cultural training, to let each team know what is considered good or bad behaviors, and how to communicate based on different backgrounds. It's sometimes small stuff that you can change in the way you communicate that will not impact you personally but will make a big difference to your target audience.
Sinjin Bain, Executive Producer, TiMi Los Angeles
TiMi is now uniquely positioned for global co-development.  We are already recognized as a world leader in mobile development which provides the perfect base to add world-class PC and console talents into. We are seeing the best creative, artistic and technical talents in North America looking to join our journey into global cross-platform AAA interactive experiences.

Alan Xu, Animation Director, TiMi Shenzhen
AAA game development is a slow-fast process. It may take one to two years for an experienced AAA game team to complete the exploration of concepts and creativity, two to three years to perform pre-production. So it often appears there is little to show for a game which has been in development for four to five years. But there will be a magical period of time afterward.
Usually 80 percent of the game content is completed in the last one to one and a half years. The development process of each AAA game is a long journey, in which patience, confidence, and determination are indispensable. And I have seen these three traits from TiMi.

Francois Dallaire, Principal Technical Artist, TiMi Singapore
At TiMi, I was trusted from the start to build their pipelines in the way I think is best. My responsibility is to make sure the art director can achieve his vision of the game, while respecting the technical constraints. You have total creative freedom to do this if it respects those constraints.
Gilles Beloeil, Principal Concept Artist, TiMi Montréal
My goal is to be able to make images that match the game the creative team has in their mind. This is why I carefully choose the projects I work on. The game TiMi Montréal wants to make inspires me, and has the potential to become great. It is one of the main reasons I joined the team.
We work in this industry because we love to create worlds and stories. The more free we feel to create, the happier we are. Of course, in the end we have to create a product for a studio, so it's normal to have to follow some guidelines.
Alan Xu , Animation Director, TiMi Shenzhen
The AAA game is a very complicated aggregation. Environmental rendering, role modeling, gameplay, film narration, special effects, music etc. Each module requires a lot of technical pipelines to support achieving high quality. I'm not expecting to recreate a set of industrial processes just by virtue of past experience. What I pursue is to build more efficient pipelines of high quality. With TiMi's strength and openness, I have such an opportunity.
Rosi Zagorcheva, Operations Director, Team Kaiju
What really helps people and teams excel in making games is comfort with ambiguity and willingness to take creative risks. Games are a complex endeavor at the intersection of art and technology. They seek to create new, never-before-seen experiences. To do this takes courage to experiment and sometimes fail, but learn from your failures and try again.

Rosi Zagorcheva, Operations Director, Team Kaiju
When I encounter challenges in my work, I usually do three things:
1. Focus on the outcome I am looking to get to.
2. Remove my fear of failure by doing the very best work I can.
3. Pause and re-center for a few minutes, to decrease the stress and improve my ability to make decisions.
It often takes years of failure and slow improvement to have a really successful game. However, even if the majority of our experiments fail but we come out with a few good proven ideas and innovations, in the end, that can still ensure great success with our players.

Rosi Zagorcheva, Operations Director, Team Kaiju
We set a clear mission from the very beginning: to make games that break new ground while inspiring vibrant communities of players and fans. We constantly develop strategies to involve everyone in building the studio. But a good strategy is not possible without a strong culture. In fact, culture eats strategy for breakfast – culture is essential for people to collaborate to their full potential.
The most important thing is psychological safety. It allows people to express ideas they otherwise may not dare to. It unleashes creativity and removes the fear of failure.  If all of us can bring our authentic voices together we can increase innovation and creativity, which is a big benefit to the business.
It starts with making diversity a business objective, and our efforts need to be focused on creating an environment where diverse experiences and points of view are not only encouraged, but also celebrated.
Derek Yao, HRBP, TiMi Studio Group
We have invested a lot of energy to optimize management, to make the global R&D network run smoothly. The first is tolerance and openness. We give full respect to the local characteristics in foreign countries, and have arranged local studio operations and HR teams in the key strategic regions.
In the content industry, games are a great combination of technology and creativity. The talented, the ones with geek spirits, and the pragmatists can all be found in one team. They differ in backgrounds and majors, but come together to create something interesting and attractive for game players.
Coffee, naps, family time – and that's just a working day at TiMi. Of course, there are standing meetings, one-to-ones, and serious discussions and problem solving, but today's office can be your home too, so you have the flexibility to structure your day around your needs.

Francois Dallaire, Principal Technical Artist, TiMi Singapore
I work from home so... at 8:30 a.m., I wake up, put on my most comfortable shorts, make coffee.
9:00 a.m., I check my tasks, liaise with my team and put my head down to work.
12:30 p.m., it's lunch with my daughter, then we take a nap.
1:30 p.m., it's more coffee and back to work.
6:00 p.m. is dinner with the family.
6:30 p.m.-7:30 p.m., I iron out unfinished tasks or prepare material, ready for tomorrow.
Rosi Zagorcheva, Operations Director, Team Kaiju
Since we are small and constantly growing, my workdays tend to change a lot based on the current focus of the team. Generally, the way I structure my days is with the clear intent to increase my own and the team's productivity.
I usually try to dedicate blocks of time to deep, focused work earlier in the morning, after which we as a team have core collaboration hours. We start with stand-ups every morning, and we have a daily playtest because we believe in playing our game every single day. We also play other games every Friday for inspiration and ideas.
Gilles Beloeil, Principal Concept Artist, TiMi Montréal
I start by reading and answering emails. Then I work on my tasks. Most of the time it's painting in Photoshop, but sometimes I focus on building something in 3D or looking for references. At the end of the day, I check my emails again.
Steven Rhee, Principal Lighting Artist, TiMi Los Angeles
To have a more productive day, I start with a nice cup of coffee, try to organize the necessary tasks, and discuss the results with my overseas colleagues and the Shenzhen team.
Alan Xu, Animation Director, TiMi Shenzhen
I have a meeting with the team every morning to determine the focus of everyone's work for the day, then liaise with other departments on specific issues to ensure we are aligned. In the afternoon I will spend one to two hours working on animation by myself, and review the team's work. There will be a one-to-one conversation with a team member each day. Before leaving work, I will set aside half an hour to an hour to sort out ideas and think about how to optimize the current workflow and explore new styles and ideas.

Rosi Zagorcheva, Operations Director, Team Kaiju
I love being outside. Sensing a world that is bigger than me and bigger than the problems I'm facing gives me perspective and a sense of peace.
Gilles Beloeil, Principal Concept Artist, TiMi Montréal
I like to play sports, have fun with my kids, read, watch movies, play video games and meditate, though sometimes it's impossible to do so with two kids in the house.
I taught CGMA environment painting and design for six years. Correcting students' work helps me to understand what is important in a painting and its good practice.
Steven Rhee, Principal Lighting Artist, TiMi Los Angeles
I enjoy spending time with my daughter and wife, doing photography, playing games, and playing golf with my friends on the weekends.
Alan Xu, Animation Director, TiMi Shenzhen
I read novels, and then try to visualize some scenes in the novel as pictures.
Francois Dallaire, Principal Technical Artist, TiMi Singapore
In my spare time, I like watching anime TV series and taking a dip in the pool with my family and going out and trying new types of food and restaurants.

Francois Dallaire, Principal Technical Artist, TiMi Singapore
Data science will have a major impact on the tools available to technical artists. We can increasingly solve tasks that were once impossible to automate, by using machine learning or its techniques. They are used with procedural content generation, like terrain erosion algorithms or scattering, with facial deformation to convert facial scanning to bone-based deformation. The list goes on.
Gilles Beloeil, Principal Concept Artist, TiMi Montréal
Concept arts are very important in any project and productions will always need some. The tools we have at our disposal are more efficient today and also there are a lot of great schools for concept artists all over the world. So, the quality level of the artworks will continue to rise.
VR will be used more and more by concept artists.
Steven Rhee, Principal Lighting Artist, TiMi Los Angeles
Next-generation game development is the most important topic in the game industry. Lumen and Nanite's support, shown in Epic's Unreal 5, is a technological advancement that will unleash the imagination of the next generation of game developers. New technology is a good opportunity to apply parts that did not implement in the past to next-generation games.
Alan Xu, Animation Director, TiMi Shenzhen
In animation, there has been no revolutionary technological update for many years after the emergence of motion capture technology. Until the last two or three years, animation generation technology based on AI learning has appeared. Tencent's AI technology accumulation and the talent pool is much higher than those of general game manufacturers.
We are currently studying various animation production technology solutions based on AI learning, including character body movements, facial expressions, physical collision simulations, etc. I think this is an inevitable trend in the production of large-scale game action in the future.

Francois Dallaire, Principal Technical Artist, TiMi Singapore
Keep up to date on new technology and never stop being curious. Surround yourself with passionate and talented people in your field.
Gilles Beloeil, Principal Concept Artist , TiMi Montréal
The first thing you must have is a convincing and wide portfolio. You can showcase traditional drawings, photos, digital works etc. It is the key to being noticed by an art director.
Be curious about everything and everyone!
Steven Rhee, Principal Lighting Artist, TiMi Los Angeles
Go out and capture the world, not just sit in front of your computer. The world is an excellent reference for lighting and realism. No one will teach you more than your own experience.
Build your visual library. Be generally curious about how light works and behaves in real life. And learn photography.
Keep asking yourself questions. For example, "why is the sky blue?" or "why do sunsets and sunrises have such beautiful, warm colors?" This understanding of the simplest form of light goes a long way in building good lighting.
Alan Xu, Animation Director, TiMi Shenzhen
As a practitioner in the animation field, I collect many movies and animation materials. I then edit it into fragments and take out frame by frame to observe and learn in my spare time.