Tencent Employees Around the Globe Work Together for Good
2022.09.16
2022 marks the 8th year of Tencent's 99 Giving Day, one of the largest annual public philanthropy campaigns in the world. This year, in addition to the signature fundraising activities on our digital philanthropy platform, Tencent's employees banded together to organize charity events to help the disadvantaged.
We spoke to a few event coordinators in Amsterdam, Hong Kong, Seoul, and Singapore, who walked us through their stories on organizing charity events during 99 Giving Day, and what motivates them to contribute.
Q: What was the event your team worked on?
Lydia (Amsterdam): We were working with a local foundation to help children. Our employees shared their career paths with the younger generation and helped them map out their aspirations for career development.
Lydia (Hong Kong): This year, our team supports the fundraising efforts of 10 charities in Hong Kong. In addition, we invited Television Broadcasts Limited (TVB) to recreate the "99 Giving Day" theme song entitled "Together for Good" in Cantonese, arranged by the Hong Kong Enharmonica of people with and without disabilities.
Sangjun (Seoul): We worked on an event to teach our colleagues how to make braille books. Braille is a system of reading and writing by touch. Every single braille book made during the event will be donated to a school for kids with visual impairment in Korea.
Traven (Singapore): My team volunteered at ECON Healthcare where we got to make mooncakes as well as lanterns with the elderly for the Mid-Autumn Festival.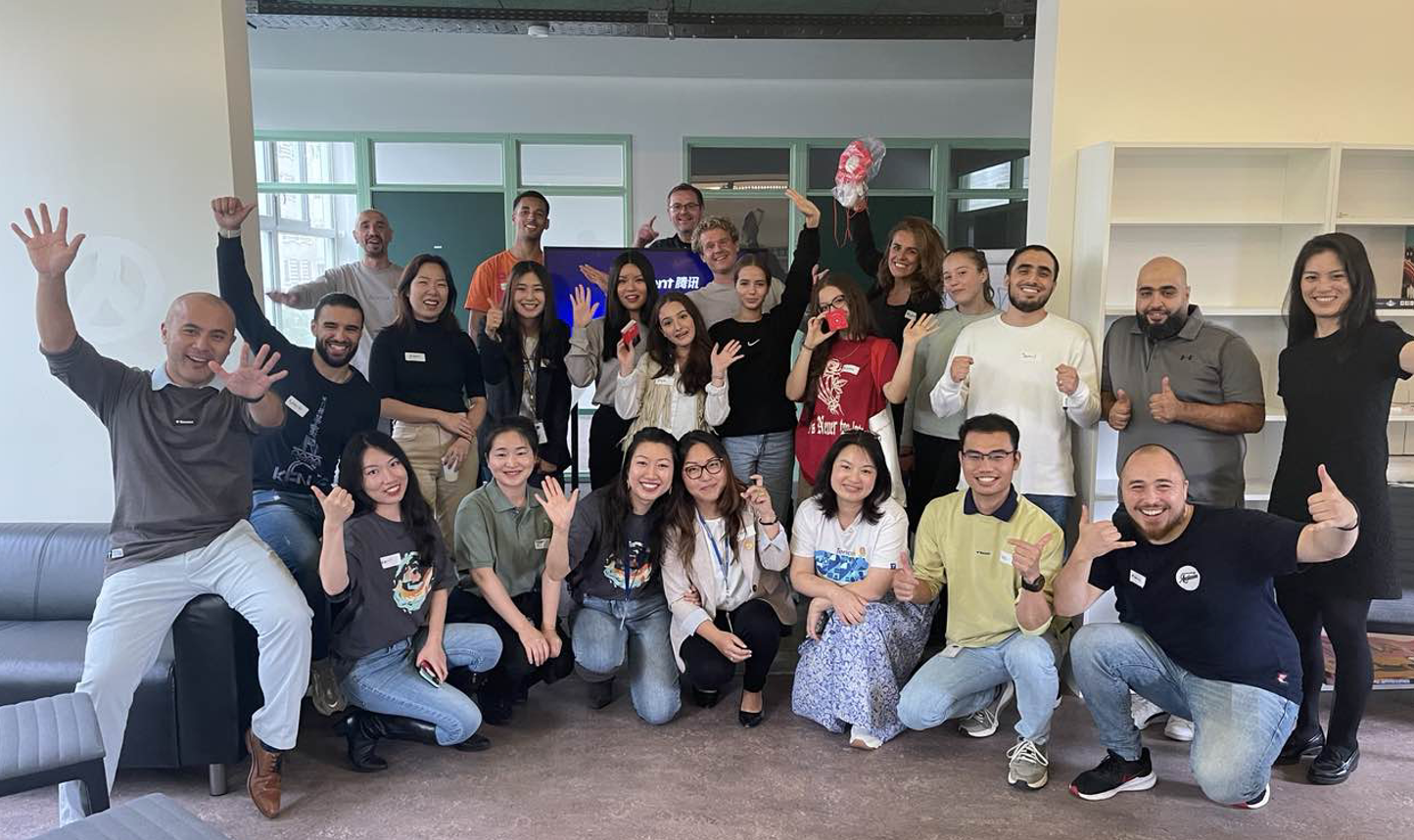 Tencent Employees, at the Amsterdam office, join the sharing event.
Q: What was your role in this project team? What motivated you to be part of it?
Lydia (Hong Kong): As the Communication lead for this project, I was eager to raise awareness of this meaningful event. I have been involved since 2020 when our team first introduced 99 Giving Day to Hong Kong. I also worked with WeChat Pay HK last year for the launch of the Stamps for Food initiative, which is an innovative project to encourage users of WeChat Pay HK to donate their digital stamps generated by digital payment transactions, to people in need of food.
Traven (Singapore): I was the lead to reach out to various organizations for potential volunteering opportunities and shared our objectives with them. The opportunity to lead and organize volunteering activities for my colleagues is a very rewarding experience - That's why I want to be involved again.
Q: Why do you think the event is important?
Lydia (Amsterdam): Young people usually are uncertain about their future careers. A lot of them are yet to find what interests them and may be unfamiliar with the options they have. We would like to help them navigate different career opportunities out there and align their strengths and skills with the industry they are interested in.
Lydia (Hong Kong): "One Flower, One Dream" is the theme of this year's 99 Giving Day. We launched an art event called "Doing Good Together with Little Safflower", with 6,000 students in Pok Leung Kuk's 25 primary schools painting "little safflower," Tencent's charity IP, to share the message of joy and hope. This project welcomed students and families in need so they, too, can partake in extracurricular activities and pursue their dreams.
Sangjun (Seoul): 8th September is UNESCO International Literacy Day, and I found out that only 13.5 percent of visually impaired people can read braille books. Furthermore, only 1 percent of braille books globally are provided to vision-impaired children in Korea. That's why I'm proud that the books made in the event will be part of those sent to these children.
Traven (Singapore): It's a good chance for us to step back from a busy workday and a way to remember why we do the work we do. Ultimately, it's about contributing back to society, which is the essence of the tagline #TogetherForGood.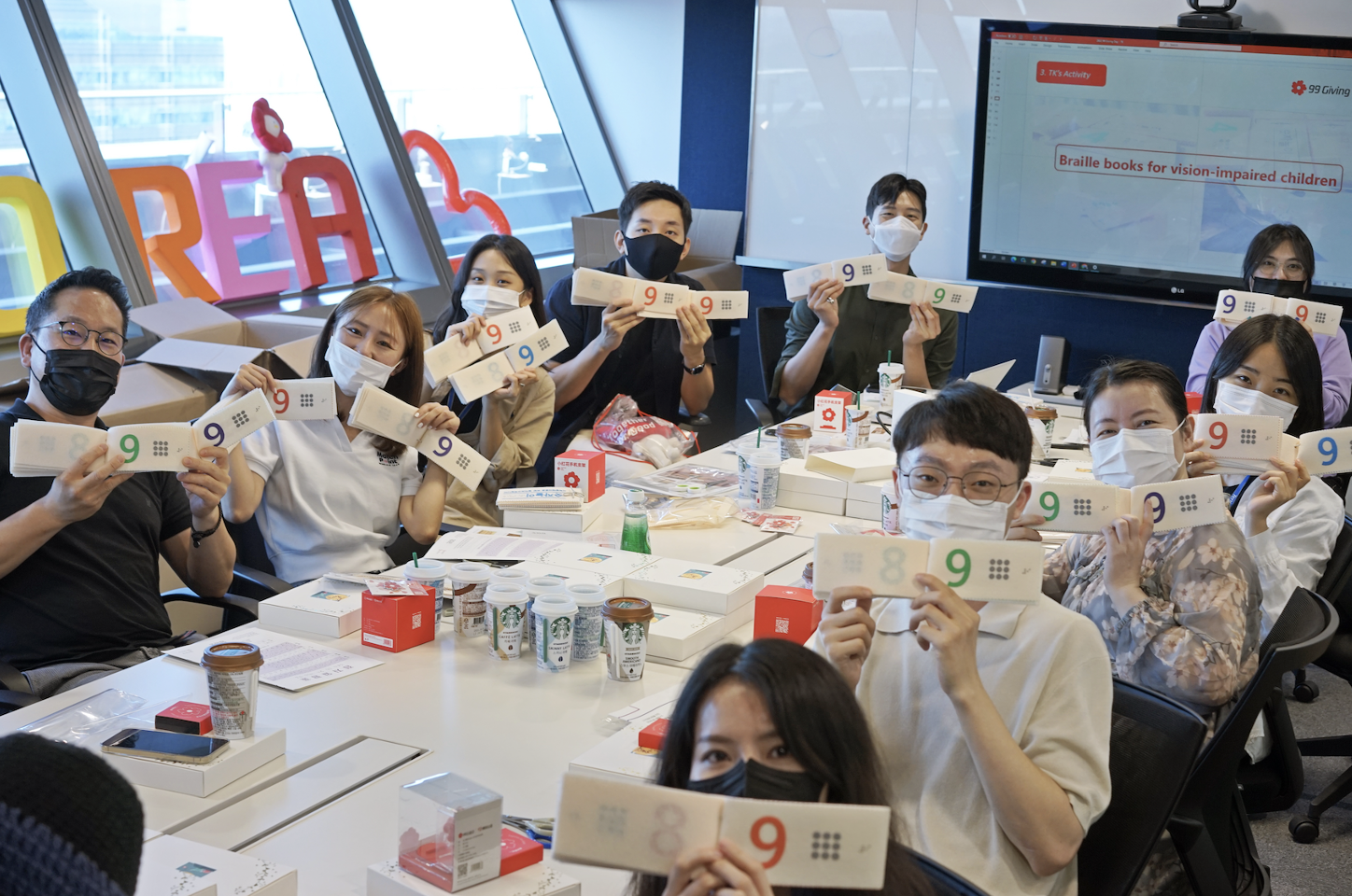 Employees at Tencent Korea make braille books for vision-impaired children.
Q: What does 99 Giving Day mean to you?
Lydia (Amsterdam): It means that I can give back to the society and use what I have learnt.
Lydia (Hong Kong): It's my third year participating in 99 Giving Day here in Hong Kong. This year we've made greater impact through broader collaborations with more charities and reaching out to more people in Hong Kong through the shared love of music.
Traven (Singapore): It's a day of contributing back, a reminder for me to put the giving spirit in my heart.
Q: What are some memorable moments when planning this event?
Lydia (Hong Kong): We filmed the music video on the day before a typhoon, which was very hot and humid. All of us, including the two pop singers, 10 musicians, and 10 Tencent volunteers and family members, along with mascots "little safflower" and "TVBuddy", had to endure several hours of harsh weather outdoors.
Traven (Singapore): It was the brainstorming session with colleagues where there were so many possibilities for us that it was hard to pick from, and we wish we could've done more!
Sangjun (Seoul): Employees are surprised to learn about the current educational challenges that visually impaired children have and asked how they can support them further in other ways.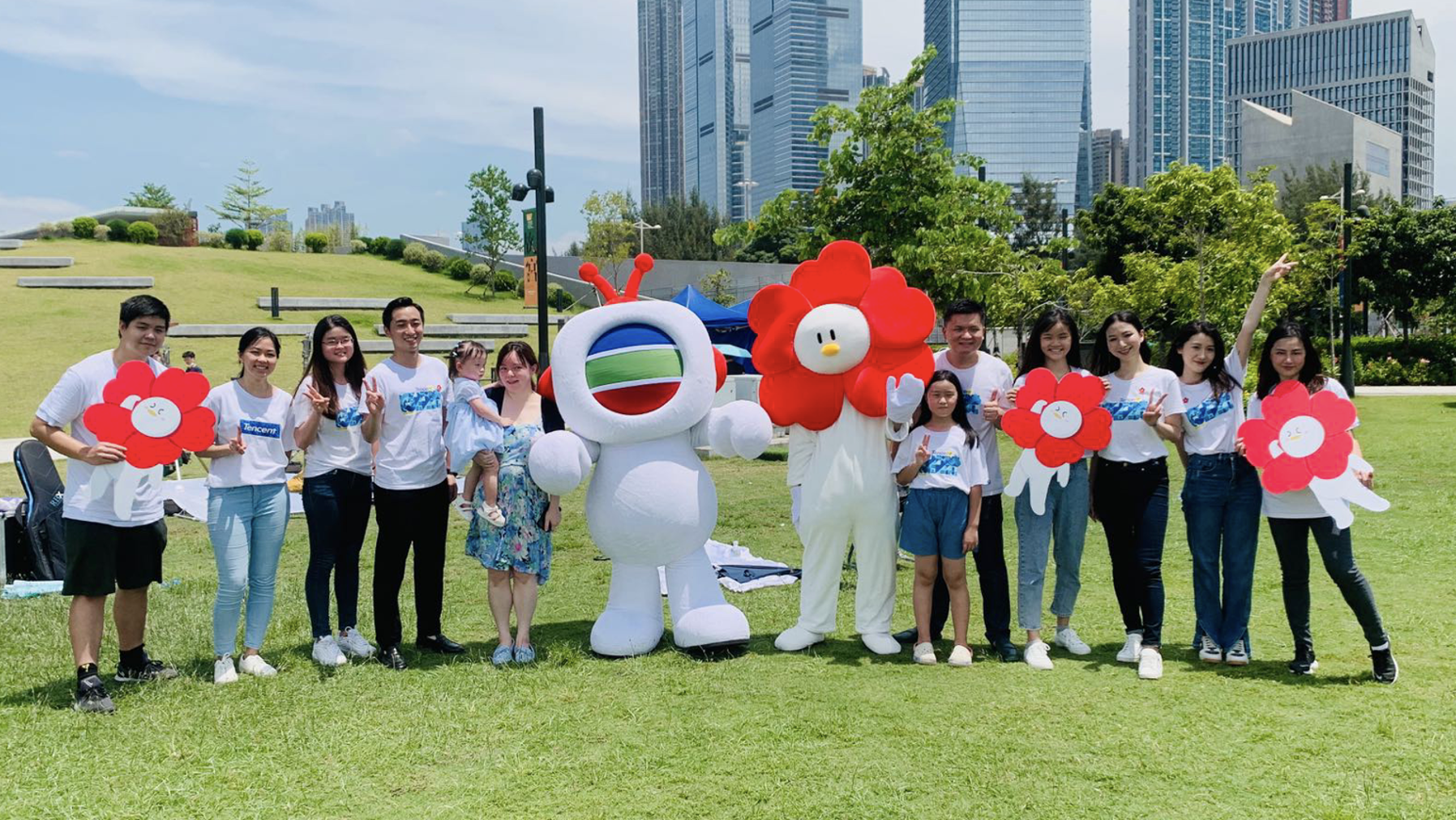 Tencent HK staff volunteers with their family members join the MV shooting.
Q: Use one word to describe the event, and why?
Lydia (Hong Kong): Together. The project is a joint effort from various teams, many are volunteers including myself.
Traven (Singapore): Joy. It's both the joy of organizing it, and also the joy received by the volunteers. I wish this joy can continue to be spread to the rest of the world too.
Sangjun (Seoul): Surprise. We are surprised by how little help the visually impaired community receives from society. We hope to raise awareness of this group to everyone so that they can receive proper resources like educational support and vocation training.