Cutting-edge Microscopic Breakthrough unveiled at Tencent Science WE Summit
2019.11.03
Tencent Science WE Summit was held in Beijing on November 3, 2019. Seven of the world's top scientists shared the breakthroughs in the fields of physics, life sciences, and geological sciences. The inaugural "Nature Research Award for Driving Global Impact" was awarded to Tom Baden, neuroscientist and professor at the University of Sussex.

Themed "Infinity Within", this year's Summit looked at the universe from a microscopic perspective, in the hopes to unlocking the mystery of life. Extraordinary scientists shared the frontier scientific advances of cell therapy, string theory, brain chips, particle robots, etc., paving the way for human beings to deepen their understanding of themselves and the universe from a "micro" level.

Notable scientists invited to the summit were:  

   Carl June, authoritative cancer immunologist
   Brian Greene, theoretical physicist
   Wang Yifang, high-energy physicist
   Shi Luping, director of Brain Computing Research Center at Tsinghua University
   Hod Lipson, authoritative robot research expert
   Jennifer Jackson, geophysical expert
   Magdalena Skipper, geneticist
Tencent Science WE Summit has been held for seven consecutive years, focusing on important scientific issues related to the future of mankind, exploring how to use technology to change human lives. It is regarded as one of the most influential scientific events in China.

This year, Pony Ma, Co-founder, Chairman of the Board and Chief Executive Officer of Tencent, said the mission of the Summit is to "encourage more people to care about life and have better self-awareness, promote public health through authoritative popular science and reduce suffering from illness."
Tom Baden, the 37-year-old British neurologist and fellow of British Royal Society of Biology, was awarded the first "Natural Research Global Impact Award". He was invited to share his research achievements at the Summit. His team has developed a genetic program of the zebrafish to observe its brain's structure and the workings of its neurons.

The "Nature Research Award for Driving Global Impact" was initiated by Tencent and Nature Research at the WE Summit in 2018. It aims to recognize young researchers who have a positive impact on society through scientific research, support the next generation of scientists' research on frontier technology, encourage the advancement of science and technology that benefits the society and tackles global issues.
Besides supporting young scientists, Tencent also focuses on cutting-edge technology development to address challenges on a global level. 
David Wallerstein, Chief Exploration Officer of Tencent, shared eVTOLs (Electric Vertical Take Off and Landing Aircraft, a new transportation technology) at the WE Summit, which can effectively reduce the demand for land for road facilities, solve the mounting problem of over-population, and decrease resource consumption and environmental pollution.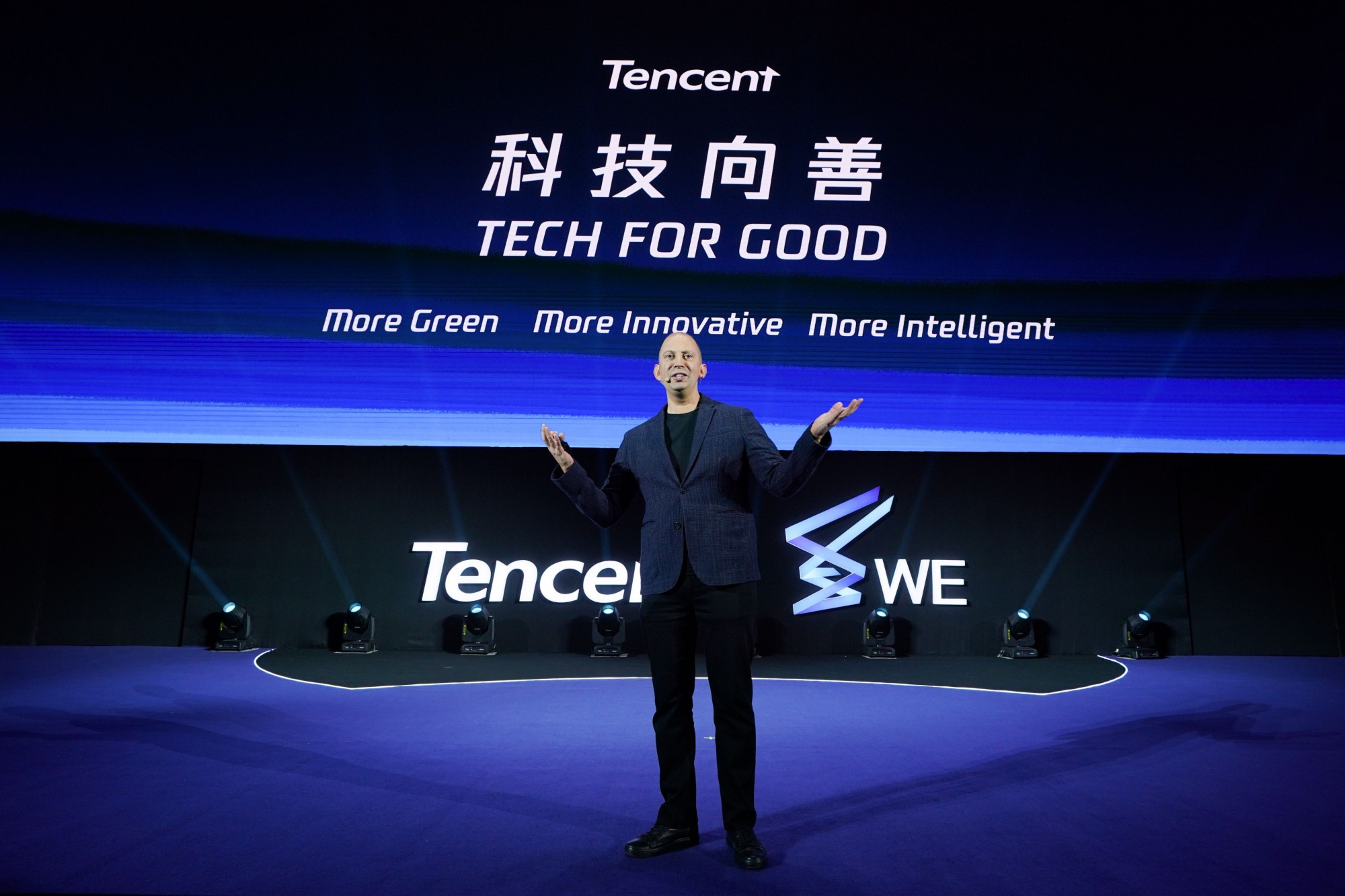 David Wallerstein, Chief Exploration Officer of Tencent
"How do we prepare for 10 billion people to live sustainably in the world by 2050? Food, energy, and water are vital. As these areas are interconnected, making headway in one area may trickle down to others.
"Technology for Good is our mission. We at Tencent have made a lot of effort to deal with these challenges," said Mr Wallerstein. 
Starting this year, "Technology for Good" has become our company's new mission and vision.  We endeavor to use science and technology to solve major societal challenges and develop frontier technology for the betterment of mankind.