Tencent AI Helps Hubei Hospitals Identify COVID-19 in One Minute
2020.02.21
How to expedite diagnosis and treatment of COVID-19 patients has become a pressing issue as frontline doctors are under substantial pressure to meet the soaring demand for computed tomography (CT) scans with a huge number of patients and limited CT equipment.
Tencent's medical AI technology has just made a breakthrough in this regard. With the support of Tencent Charity Foundation, the first batch of Tencent AI Medical Innovation System (Tencent AIMIS)'s AI-powered CT equipment is being delivered to Hubei and will be deployed for use by three hospitals, including West Campus of Wuhan Hospital, Rihai Mobile Cabin Hospital, and the People's Hospital of Honghu.
demonstration of AI-powered CT equipment  
This AI-powered diagnosis solution can complete AI pattern recognition as fast as two seconds after each CT scan and generate diagnosis reference within one minute.
As a chest CT scan can detect pathological changes of lungs, frontline physicians in imaging department take on heavy workload, as not only detection of suspected cases require CT examination, but the patients under treatment are also required to undergo CT scan every five days on average.
A chest CT scan typically generates around 300 images, which takes doctors five to fifteen minutes to examine with naked eyes; but Tencent AMIS AI imaging and diagnosis platform can provide doctors with diagnostic reference in just one minute, enhancing diagnostic efficiency significantly and providing timely treatment to patients.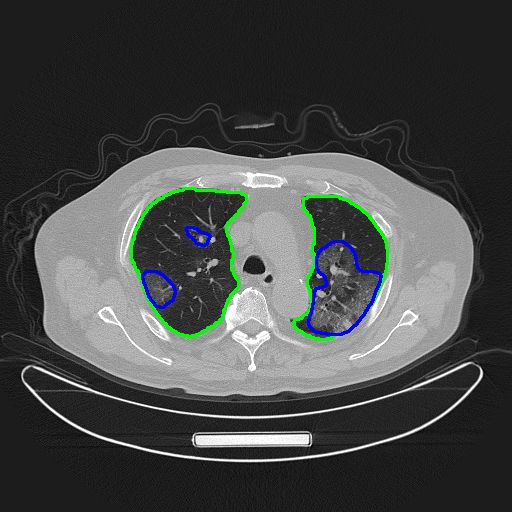 AI Technology performs automatic segmentation of CT images: green and blue loops indicate the lung and COVID-19 lesions respectively
To ensure timely deployment in the fight against disease, Tencent AMIS has been deployed with mobile CT equipment that can reach the epidemic stricken areas as quickly as possible. This handy equipment can also be used outside hospital or radiology department, avoiding cross-infection among patients.
What's more, Tencent AMIS optimizes the image recognition model for the COVID-19 virus. The AI technology provides segmentation with unmatched precision in the lesion area, performs quantitative analysis, and helps doctors accurately assess the severity and development of in the coronavirus disease for the patients.
As the next step, Tencent AMIS will provide case follow-up so that doctors can cross-reference patient's conditions and evaluate effectiveness of the medical treatment.
Tencent Charity Foundation is planning for the delivery of the second batch of the emergency CT equipment to frontline use in Hubei province. Meanwhile, Tencent Cloud is also working on the deployment of this AI capability on its cloud platform to help more doctors and patients in fighting against the epidemic.