The Race Against Time
2020.04.03
April 3, 2020 - Shenzhen
COVID-19 is rampaging across the globe, crippling economies and stretching the capacities of hospital emergency rooms. Medical supplies for front line healthcare workers are dwindling, and restocking them has become increasingly difficult as the global economy slows.
Even before we set up the Global Anti-Pandemic Fund last week, our colleagues had been travelling the country to source protective medical masks (N95s, surgical masks, etc.), ventilators, and other hospital equipment. We were racing against time to get these much-needed medical supplies into the hands of healthcare professionals fighting the outbreak for their communities.
Distributing supplies is no easy task. In normal times, it could take months to source supplies, sign contracts, arrange for proper testing and certification, and deal with customs clearance. It's even more challenging now as administrative orders to shelter-in-place and no group gatherings have driven businesses to close and made it even harder to move supplies across national and geographical boundaries.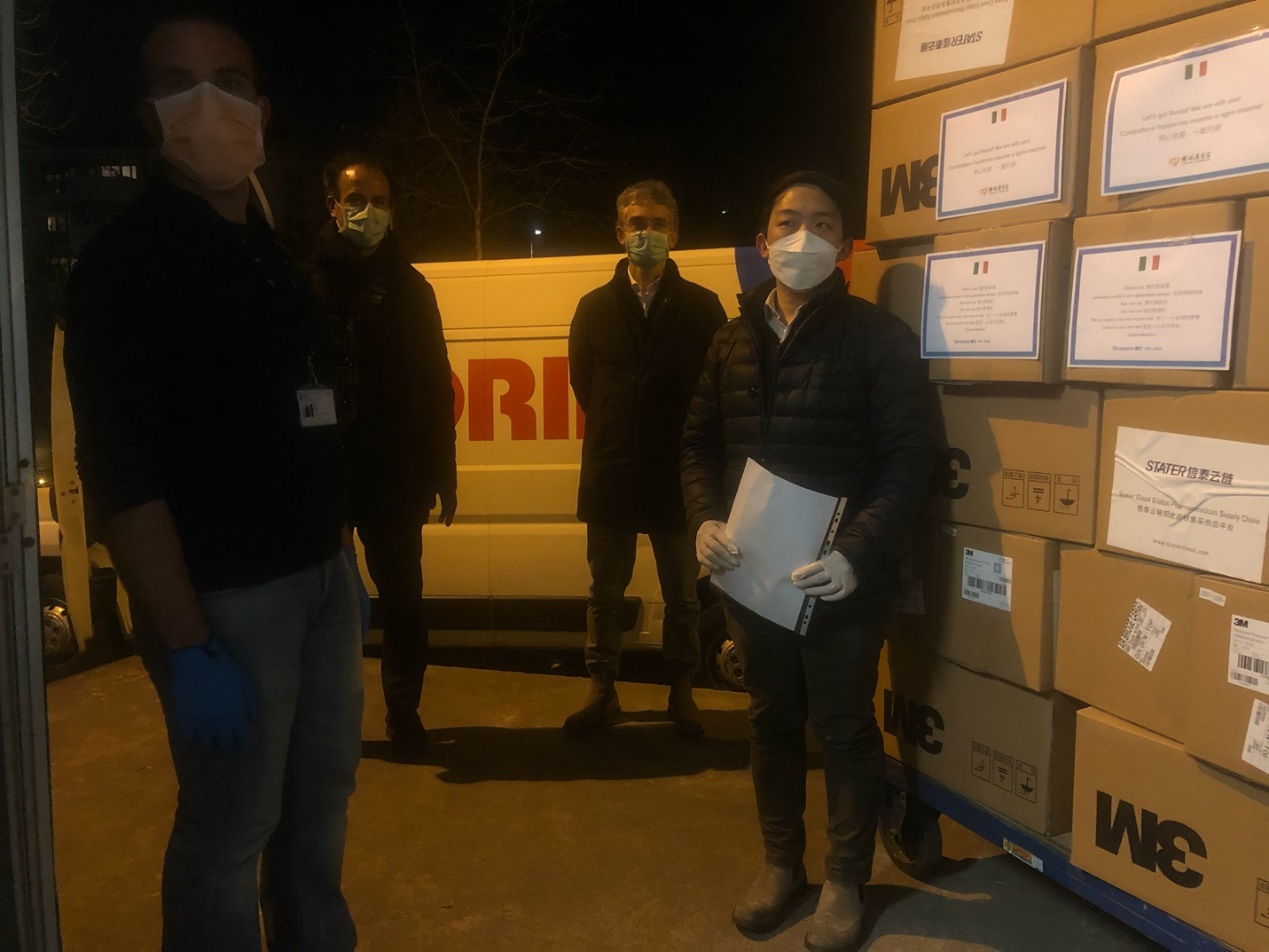 40,000 masks arrive in Italy, destined for two hospitals in the hard-hit Lombardy region.
Our experience in China fighting COVID-19 has given us certain advantages, enabling us to compress a two-week supply chain in some cases down to just a few days. All while doing our best to ensure the supplies meet the highest standards. Some of the supplies were delivered to foreign embassies in Beijing pending shipment to their respective countries, while others were rushed to airports for flights to New York, Kuala Lumpur, London, Sydney, and Milan.
Several shipments of medical supplies have already reached their destinations, or are currently en route.
In Italy, we delivered the first batch of 40,000 masks to two hospitals in Lombardy, the hardest hit region, with the cooperation of the Fosun Foundation. The shipment arrived at Ca'Granda Ospedale Maggiore Policlinico, the oldest hospital in Milan, and Ospedale Luigi Sacco, which has recently been assigned to receive new patients. We had mixed feelings when we delivered the masks to the hospitals; grave concern about the situation in Lombardy and some relief that we were able to make a small contribution to help. Additional supplies of masks, protective suits, face shields, and nitrile gloves were delivered to the Italian Embassy in Beijing two days ago.
We are also working with Naspers, our partner in South Africa, to procure more than RMB 500 million worth of protective suits and medical supplies for healthcare workers in the country.
Another 300,000 N95 masks and 15,000 protective suits are being prepared to ship to Barcelona tomorrow through the Fundacio Privada Futbol Club Barcelona. The Tencent Foundation also donated one million surgical masks to Spain, with support from the China NGO Network for International Exchanges and the China Foundation for Peace and Development.

Surgical masks are loaded onto a minivan bound for Stanford Healthcare (left) as other shipments of medical masks are dropped off at Tencent America to be distributed to Bay Area hospitals.
We donated 100,000 masks and an invasive ventilator to the United Kingdom, with support from its Embassy in Beijing to ship to London.
In Asia, we delivered 100,000 medical masks to Malaysia on March 24 with support of the Fosun Foundation. Another 250,000 surgical masks landed in Thailand today, while Cambodia received 150,000 medical masks and more than 7,900 protective suits.
In the United States, shipments of 75,000 masks have arrived at the New York Presbyterian Hospital in the pandemic epicenter of the country, with more to follow. In Palo Alto, California, the first batch of surgical masks arrived at Stanford Healthcare yesterday, with another due soon. Stanford Healthcare is one of the top ranked hospitals in the United States and among the first to launch an in-house diagnostic test for the novel Coronavirus. There are also 14 ventilators being prepared for shipment to New York and the Bay Area. We also responded to an urgent call from the Kraft family to provide ground logistical support to load nearly a million masks on board the New England Patriots' aircraft.
We helped plan the logistics to get nearly a million masks on the NFL New England Patriots' aircraft at Shenzhen Bao'an Airport. During an interview with CNN, Patriots owner Robert Kraft thanked Tencent and everyone else for helping arrange the special flight to China.
Our colleagues, investee companies and business partners from Asia, Europe and the Americas have worked closely together in the past two weeks to achieve a joint mission: to respond in global solidarity to the COVID-19 emergency.
The challenge before us is vast and can only be solved with all of us working together. Let's stay positive, pitch in, help others, and fight the further spread of the novel Coronavirus. Together we can nurse our communities back to good health.