Together We Can
2020.05.26
A shared humanitarian mission to help communities fight COVID-19.
————————
The rapid spread of COVID-19 around the world necessitates a global response to protect healthcare workers battling on the front lines and to make communities safe again. We are appreciative of, and motivated by, the positive responses we've received from our business partners and investee companies overseas, as well as support from enterprises in China to jointly operate this humanitarian mission. We are proud and encouraged by our colleagues who volunteered to help fight the spread of the pandemic in China, and then internationally, via relief donations, and via providing services that mitigate the pandemic's impact on our daily lives.
Tencent established the Global Anti-Pandemic Fund in March to source and deliver critical medical supplies such as masks, ventilators and other PPE to the most heavily hit areas. By joining forces with our partners around the world, we were able to execute more efficiently and get the supplies to those areas that were most in need.
Teaming up with Professional Sports
Major professional sports teams have been great partners in our operation.
A partnership between Tencent and the FC Barcelona Foundation was established to ship multiple batches of PPE via the well-known football club in Spain. The protective suits, gloves, masks, face and eye shields arrived in Barcelona and were distributed through the foundation's network to healthcare practitioners in Catalonia, with plans to ship another 150,000 masks underway.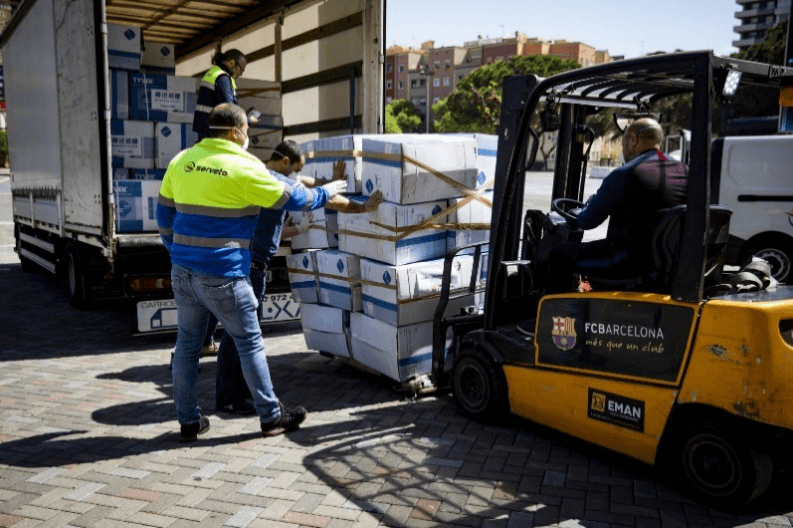 FC Barcelona Foundation receives the first batch of protective suits on April 12.
Another 150,000 masks and 10,000 eye shields were sent to the Parc des Princes football stadium, home of Paris Saint-Germain. The Paris Saint-Germain Foundation helped to distribute the supplies to several charitable associations including Action Contre la Faim and the French Disability Sport Federation. The foundation also provided PPE to protect volunteers, social workers, caregivers and other vulnerable groups.
In the United States, we responded to an urgent request from the New England Patriots, a National Football League team based in Boston. The team needed help to quickly load more than one million medical masks onto the team plane at Shenzhen Airport. We arranged a support team to manage ground logistics and load the cargo extremely quickly. After landing back in the US, the Patriots donated the supplies to hospitals in Massachusetts and New York.
Collaborating with Business Partners
Our business relationship with Universal Music Group enabled us to bring PPE to local communities in the greater Los Angeles area. We jointly donated masks to the VA Greater Los Angeles Healthcare System, Huntington Hospital, USC Verdugo Hills Hospital, and UCLA Healthcare. Also with the assistance of UMG, a total of 75,000 medical masks were delivered to Nashville, Tennessee, home of the Country Music Hall of Fame, while 200,000 medical masks were sent to caregivers in Miami, Florida.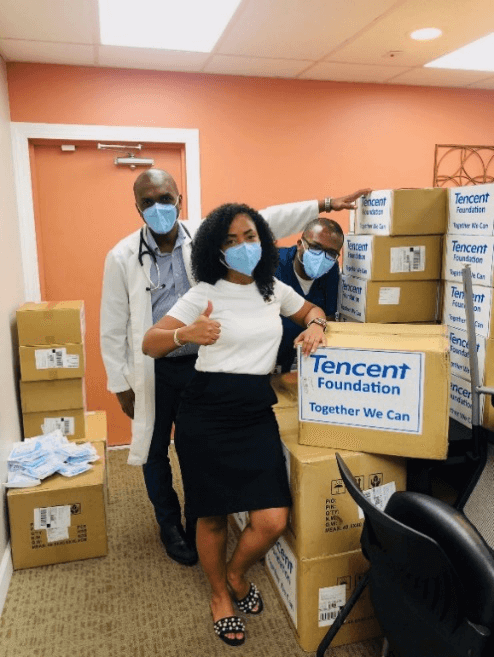 40,000 medical masks arrive at Broward Community & Family Health Centers in Florida.
We joined hands with NBC Universal and its parent company, Comcast, to dispatch 1.2 million masks to several hospitals in Philadelphia, Pennsylvania and the Orlando Healthcare System in Florida.
A European media company, Koch Media GmbH, worked with us to distribute masks, protective suits, face shields and gloves to hospitals in Austria.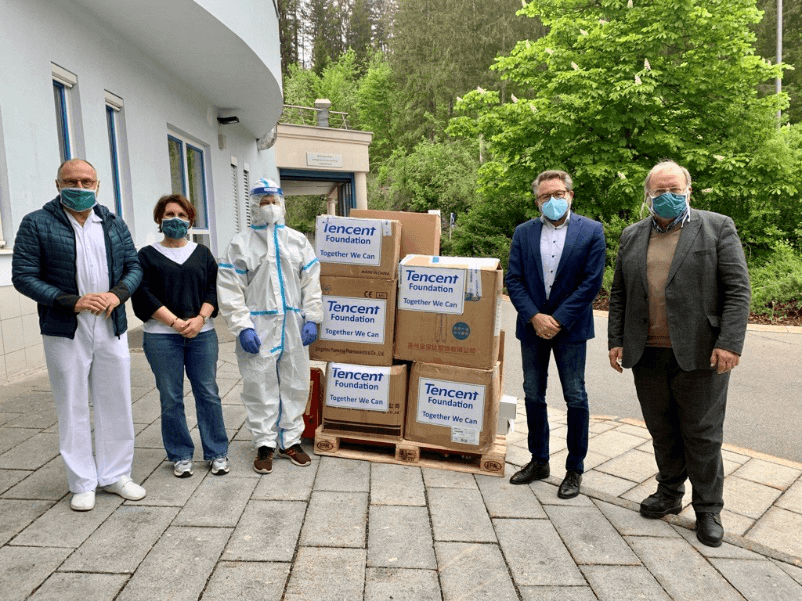 A shipment of PPE arrives in Vienna, Austria on May 18.
United with Network Companies
In the United Kingdom, we worked hand-in-hand with Miniclip to send 147,000 protective suits, 20,000 face shields, and 20,000 masks to support healthcare workers at St. Mary's Hospital in London.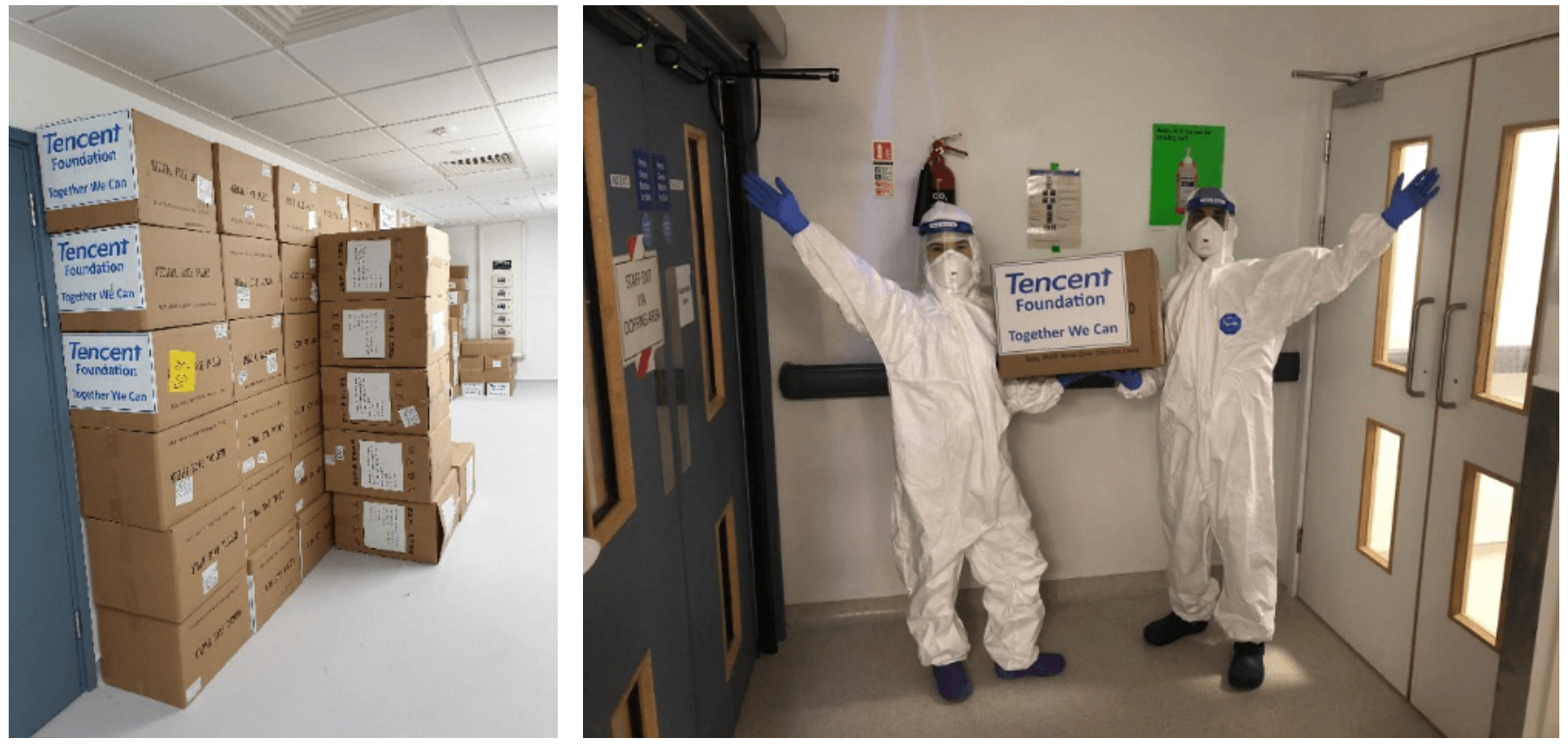 PPE arrives at St Mary's Hospital to protect National Health Service healthcare workers in the UK.
We worked with Supercell to distribute more than 220,000 masks, 6,000 protective suits, and 3,000 goggles to hospitals in Helsinki, Finland. With support from Ubisoft we managed to deliver around 330,000 masks to Assistance Publique – Hôpitaux de Paris, the largest employer in the Paris region with 90,000 staff. Another 200,000 masks will be sent shortly to front line healthcare workers in France.
In the United States, Riot Games pitched in to help provide masks, protective suits and non-invasive ventilators to the Olive View UCLA-Medical Center and Keck Medicine of USC in Los Angeles.
As a partner to Naspers we procured and arranged logistics for the delivery of 15 million masks to medical personnel in South Africa. Plans are also underway to send masks to Dream11 to support the local fight against the coronavirus in India.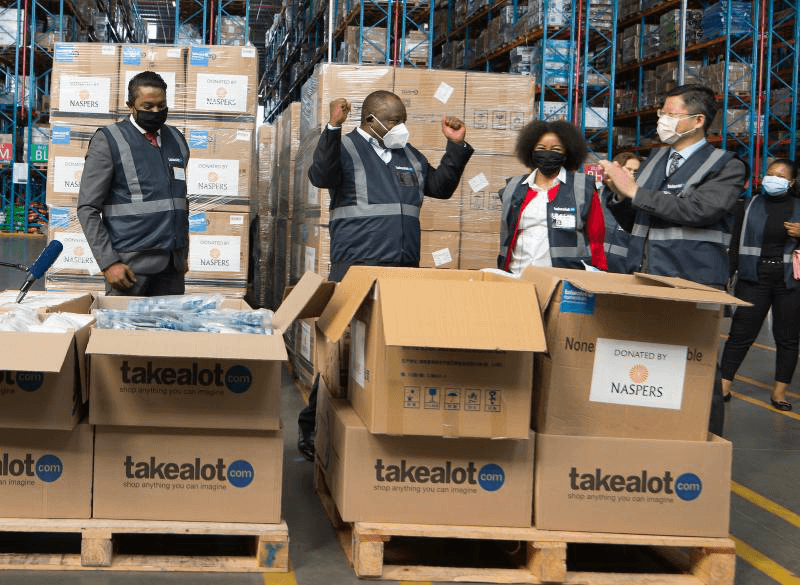 Nasper's PPE shipment is received by South Africa President Cyril Ramaphosa.
We're in it Together
Doctors, nurses, and other front line workers have been working day and night to fight the disease, treat patients, and advocate for prevention.
Since we launched our anti-pandemic efforts, many colleagues have volunteered to help by using their knowledge in procurement, logistics, customs clearance, legal and local relationships to expedite the supply chain amid cross-border administrative challenges caused by COVID-19.
Health experts have advised that the coronavirus will continue to haunt us. Therefore, it's important for people around the world to continue supporting each other in this global battle, regardless of differences in culture, language and race. This shared value has underpinned the success of our shared humanitarian operation. We are grateful for the generosity and dedication of our colleagues and business partners.