#TencentTalent: Creating Immersive Digital Experiences from Teams in the US and Europe
2021.04.20
The pandemic has had a big impact on people's daily lives around the world, with many transitioning to working and studying from home. That's meant more time playing games, watching immersive videos, chatting with friends and family over the Internet, and even accessing medical services remotely. As more people get used to living their lives online, they've also become more demanding about the services they're provided. It's up to technology companies to try and stay ahead of that curve.  
At Tencent, interactive entertainment, immersive technology, and cloud services are among the fastest growing businesses that are powering some of the most creative and innovative minds in the industry.
This week in #TencentTalent, we speak with a few of the smart and creative people driving these changes behind the scenes in the United States and Europe. Meet Weiwei Feng, Markus Kuhlo, Trey McNair and Jia Wang.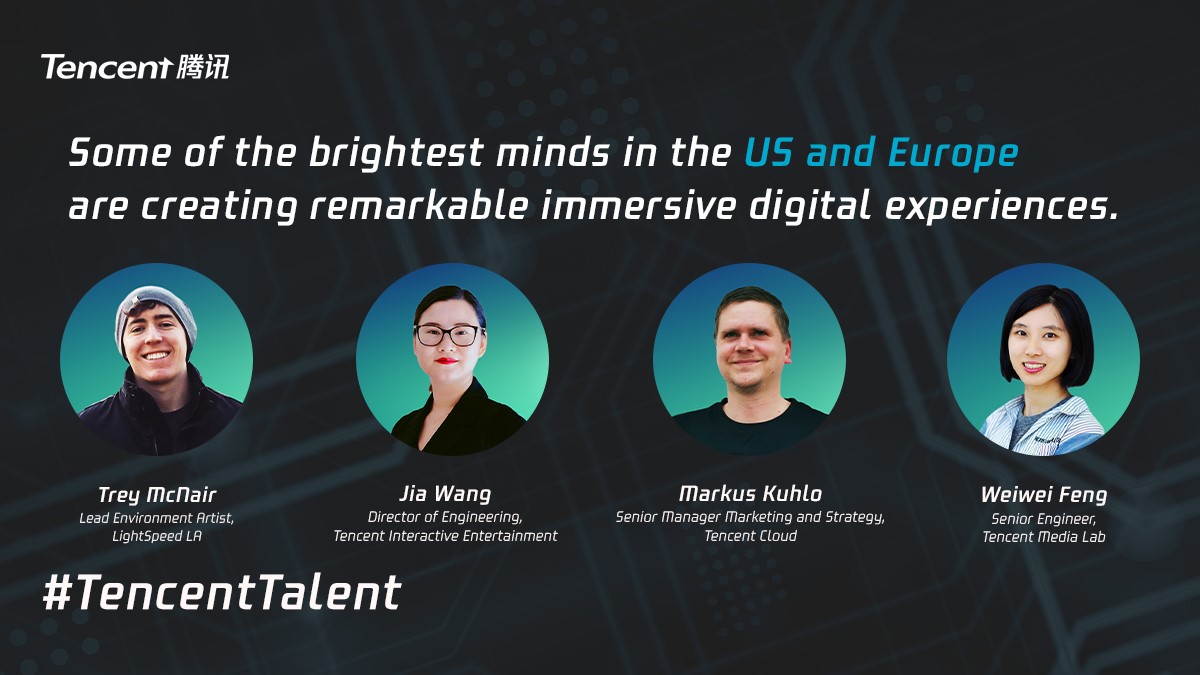 Weiwei Feng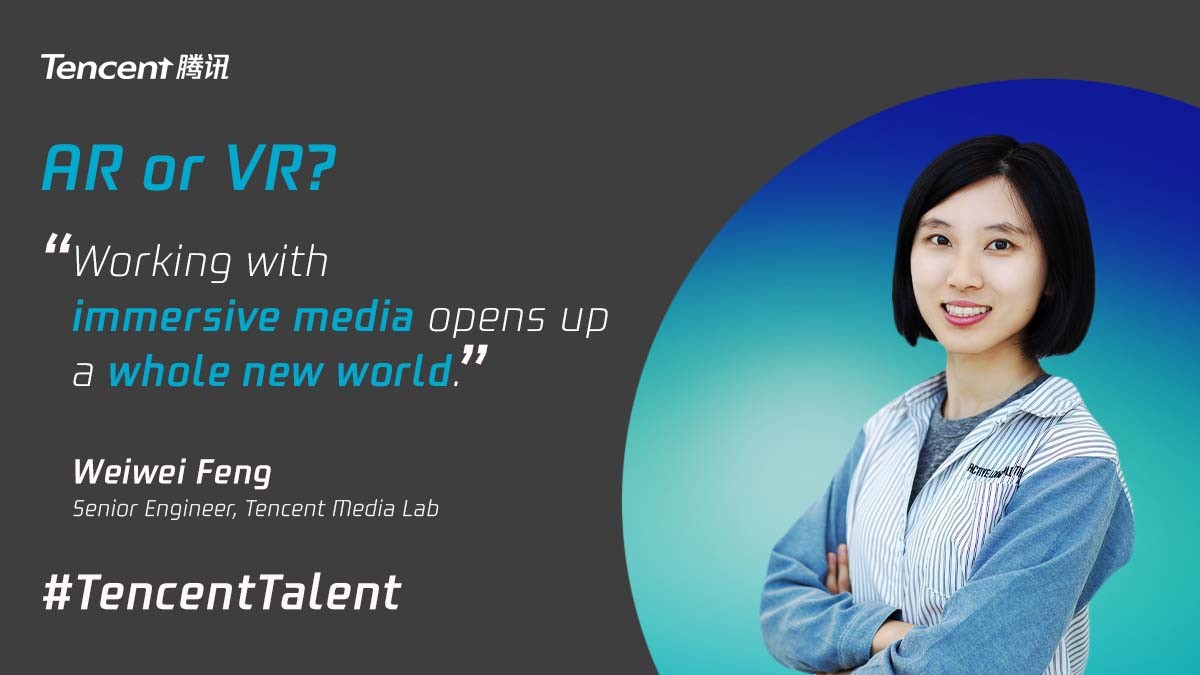 Weiwei Feng, Senior Engineer, Tencent Media Lab
Weiwei Feng is immersed in immersive technology as a senior engineer for Tencent in Palo Alto, California. She's been working on multimedia tech development including immersive media, augmented reality (AR), virtual reality (VR), and related applications since joining the team in 2018. Weiwei is proud of the work she is doing and how it will positively impact people around the globe - both now and in the future.
"Working with immersive media is opening up a whole new world to me," said Weiwei. "Right now, there aren't many companies who are embracing this technology or making products that can actually be used by real people. That's what makes what we are doing at Tencent so exciting and powerful."
One of the projects Weiwei is most proud of is her work on the Tencent immersive VR360 launch and how the application helped capture the rich culture of song and dance in Yunnan Province in southern China. Without the immersive technology, there would have been no way for people around the globe to experience the captivating art and celebration related to the culture.  
Weiwei joined Tencent after working in the financial industry, which she said is nothing like working in technology.
"Innovation in the financial industry is prudent," said Weiwei. "If you had a new idea or a way to make things more effective, it could take years for it to come to fruition. At Tencent, the work culture is very fast paced. Leaders encourage employees to be creative and on the cutting-edge. Seeing ideas come to life in a matter of months, not years, is inspiring and motivational."  
Markus Kuhlo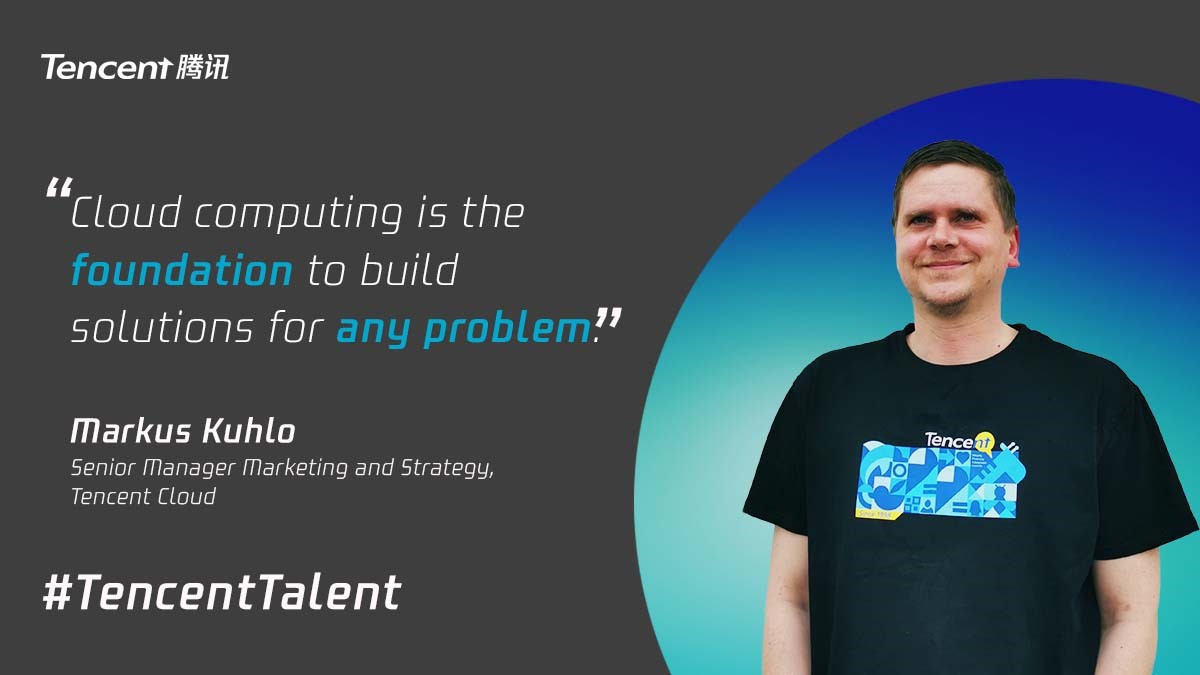 Markus Kuhlo, Senior Manager of Marketing and Strategy, Tencent Cloud
Markus Kuhlo loves the fast pace, too. He's the senior manager of marketing and strategy at Tencent Cloud Europe, where he leads the European regional marketing team in a number of areas including social media campaigns and events.
Building relationships is a big part of Markus' job. He regularly meets new people as he looks for suitable partners for Tencent. He prides himself on educating the market about what Tencent stands for, including the company's mission and vision in the European cloud space.
"I've always been fascinated by technology," said Markus. "Cloud computing is a versatile technology and the foundation of many new innovations yet to be made. Cloud computing is not like a product that solves a specific problem, it is the foundation to build solutions for any problem. The opportunities to leverage unlimited computing power will help solve the biggest problems and challenges of mankind."
Markus is also bullish on the potential of artificial intelligence. "You might not think cloud technology could help reduce the world's hunger problem, but AI is being used to build greenhouses that can grow more food," he continued. "At the same time, resources will be used more efficiently, which will help reduce waste and deploy solutions in regions lacking resources." 
Markus believes the most important qualities for a Tencent teammate are a willingness to work hard, a drive to never stop learning, and to persevere, even when things aren't going as planned.
"To be successful in any industry, but especially in tech, you have to be open to try new things and not be afraid of failure," he said. "It's ok to fail if you do something new as long as learn from it and make it better next time."
Trey McNair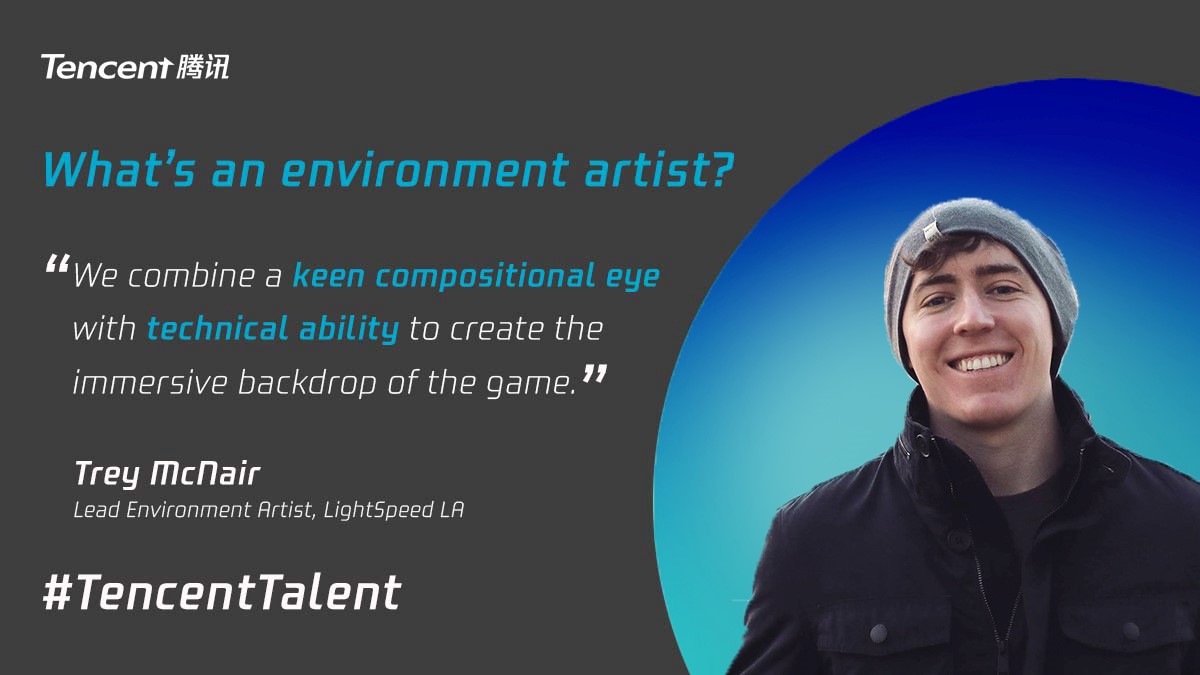 Trey McNair, Lead Environment Artist, LightSpeed LA, Lightspeed and Quantum Studios, Tencent Interactive Entertainment
Trial and error and a spirit of never giving up is a key attribute for artists, too, especially when creating captivating backgrounds for popular video games. Trey McNair is in the Tencent Interactive Entertainment Group as a lead environment artist at a new company-owned games studio called LightSpeed Studio LA in Los Angeles.
Trey is often asked by friends about what exactly an "environment artist" is.
"Environment Artists combine a keen compositional eye with technical ability to create the immersive backdrop of the game. Either by modeling, texturing, or layout, most of what you see on screen that is not a character is contributed to by an environment artist," he explained. "Our goal is to design a space that is visually captivating and fun to play in. We are integral for helping narrate what's happening in the game world, what's happening in the story and the mood we want the player to feel. We can also help lead a player in a certain direction by using composition, lighting, colors and shapes."
Trey said the thing that gets him most excited is the chance to collaborate with talented developers on interesting and tough challenges. "It's an exciting time for the games industry as the next generation of consoles is just now getting into the hands of gamers," Trey said. "Expectations are constantly rising, but so are new technologies. I am excited to be challenged by these new technologies and finding ways to use them to exceed players' expectations."
Trey has some advice for future Tencent employees, too. He encourages them to "find a place to challenge yourself while also learning and growing. A #TencentTalent doesn't shy away from responsibility or accountability -- they seek collaboration. Don't get discouraged when encountering hard problems and have an optimistic nature. Believing you can succeed or solve a problem is important."
Jia Wang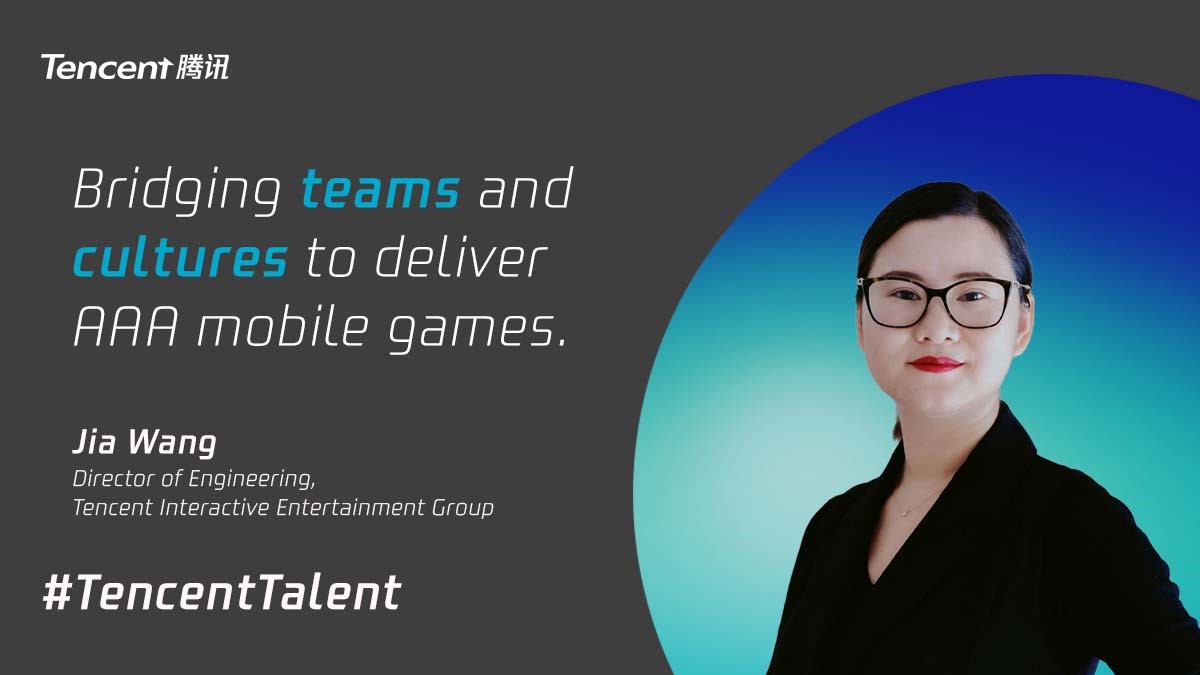 Jia Wang, Director of Engineering, Tencent Interactive Entertainment Group
Jia Wang is also a key player helping to grow Tencent's games business. She joined Tencent in 2019 as a tech support engineer and is now the director of tech service at Tencent Interactive Entertainment Group in San Francisco, where she leads a team supporting one of the most exciting mobile game launches in history. Jia says that task is harder than it might seem.
"This project is one of the most complicated projects many have ever worked on," she said. "There are so many stakeholders involved. Plus, because of the pandemic, our team has never met in person. All our meetings are virtual. It's almost like the project is its own company."
To make matters even more complicated, the team is dealing with language barriers, cultural differences, time zone challenges, different implementation infrastructures and tight timelines.
"I grew up with Tencent technology and use it every day for communication and leisure. For me there is an emotional attachment to the products that Tencent offers to the public, which is why a project launch like this is so important to me," said Jia. "Our teammates are working so hard day and night to achieve the shared goal of a successful, worldwide launch out of the love we have toward games and players. I am honored to be on such a stellar team of professionals."
Jia has the drive to grow Tencent's visibility in the international marketplace and understands the importance of hiring hard-working, driven and creative employees.
"I want to be the bridge that unites the culture of China and the West, and use those strengths to attract employees who are interested in working in a world-class technology company that appreciates equality, diversity and inclusion," Jia said. "I want to be one of the people contributing to integrating these values into Tencent's culture."