#TencentTalent: Meet the Team with a Laser-like Focus on Making Connections Online
2021.06.01
We've seen profound progress in digital tools over the past decade that have ushered in new ways of connecting with loved ones, managing finances, and playing games. These technologies have changed our lives. While the web and mobile devices have matured, that doesn't mean technology development is finished. The next generation of innovators are building on the advancements of the past and using their minds, creativity and other resources to push the boundaries of what's possible.
In this week's #TencentTalent, we'll meet three innovative people who are leading the charge by using new technologies to reframe the way people around the world connect. Meet Bin Xia, Hanxin Jin and Xin Pan.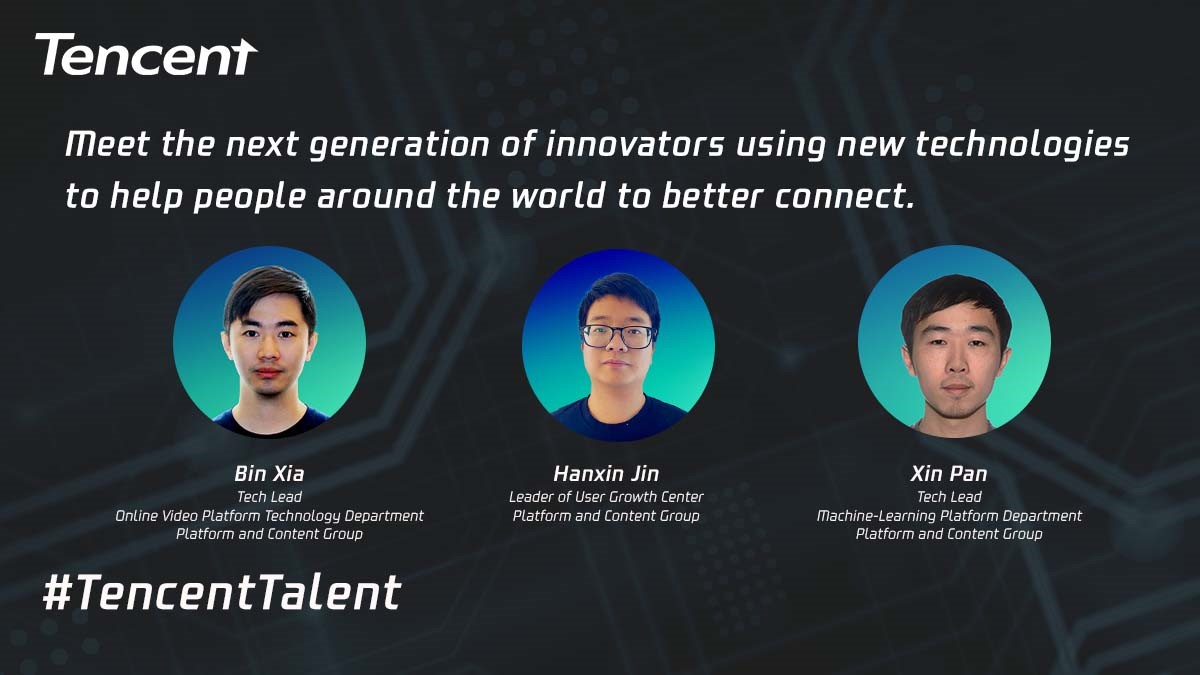 Bin Xia
Bin Xia is the tech lead for the online video platform technology department of Tencent's Platform and Content Group. His focus is on the optimization of video recommendation strategies and algorithms.
"We hope to bring more personalized experiences to users and provide accessibility to high-quality content," Bin says. "My job is to build a recommendation system. Through modeling and predictions, it may be possible to distribute the content a user is keen on from a massive content pool."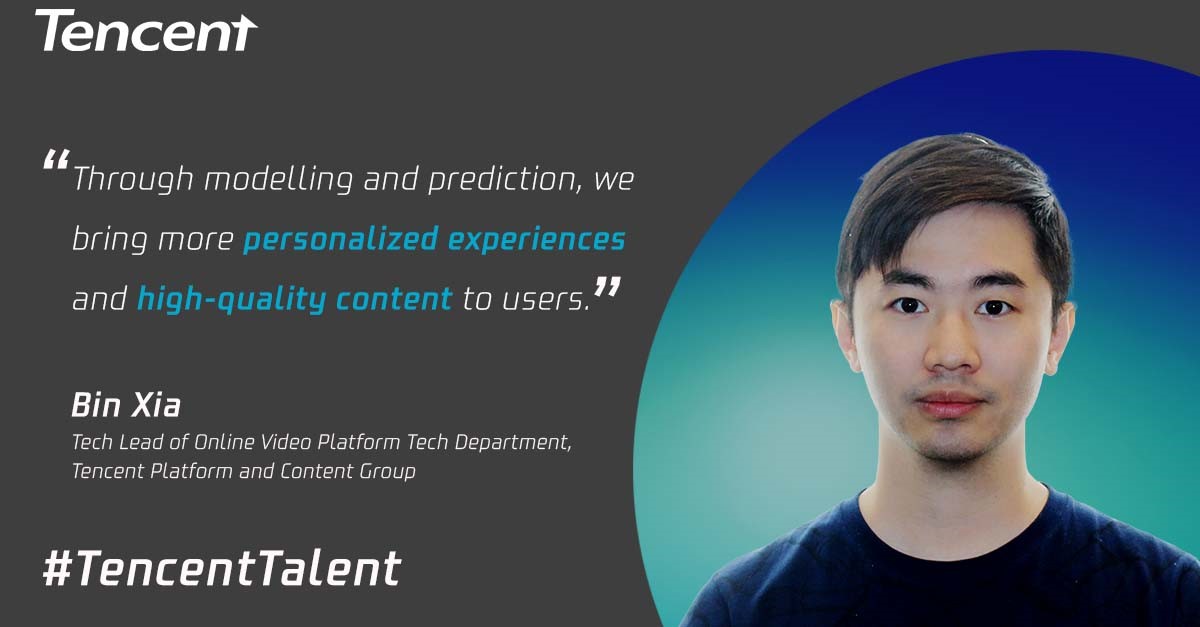 Bin Xia, Tech Lead in the Online Video Platform Technology Department, Tencent Platform and Content Group
In the past 10 years, user scenarios and content consumption have undergone significant changes from text and graphics to video. According to research from the China Netcasting Services Association, as of June 2020, there were 818 million short video users in China with each one using the service for an average of 110 minutes a day. Video is becoming the first choice for people to obtain information.
However, because everyone's interests, perceptions and consumption habits are different, uncovering how to capture and analyze user preferences in video content is a more complex technical challenge than simply dealing with text and graphics. "I love to discover technological difficulties in my daily work and find the possible breakthrough to solve these problems," Bin added.
Each day, the first thing Bin does is review data updates, find problems from the data and work on building related tech capacities in a targeted manner.
"In addition to technical and professional advancement, joining Tencent has helped my perspective evolve," said Bin. "I used to think about ways to use technology to improve a product from the perspective of an engineer, but now I think from the user's perspective and try to improve the user experience in a more open-minded way."
Last year, Bin's team introduced the "good video" model to predict the popularity of content. This ensures the distribution of high-quality creators and gives ordinary freshmen creators more opportunities to be seen.
One thing that impressed Bin was the sending of electronic red packets during the Lunar New Year of 2020. At the time, many people were unable to return to their hometowns and reunite with family and friends due to the COVID-19 pandemic. The campaign allowed users to send and receive e-red packets with New Year greetings and blessings on the video platform.
Bin and his team were there to ensure the video platform's stable and smooth operation. "Seeing that my colleagues are fully committed to the user experience and knowing our product brought comfort to people during the pandemic was rewarding and I became even more confident in what I am doing and the impact I am making."
Bin previously spent many years working for renowned global social media companies in Silicon Valley. While his study on algorithms goes deeper, he has made an even stronger pursuit of technological advancement. Thanks to Tencent's vigorous efforts to build a technology center, Bin and his team's technical capabilities can not only serve Tencent's video products, but also contribute extensively to the multiple platforms of the entire business group.
Hanxin Jin
Experience and technical expertise are part of what makes a good #TencentTalent. Hanxin Jin exemplifies these traits in his role as leader of the User Growth Center in the company's Platform and Content Group.
The User Growth Center is located in Tencent's headquarters in Shenzhen, China. It's where Hanxin focuses on the QQ Browser, one of the most popular mobile browser apps in China.
Before joining Tencent, Hanxin lived in the United States and worked with two of the largest social media networks in the world. He got extremely valuable experience in those roles, but eventually decided it was time to take the next step. That's when he returned home and took on an exciting new challenge at Tencent.
"The QQ Browser is a really stimulating project and a different kind of challenge than anything I have tackled before, so I am having a lot of fun," Hanxin said. "There is also a real opportunity to contribute to all aspects of the product's success. Because it is such a stable product, you can really see the impact you have when changes are made."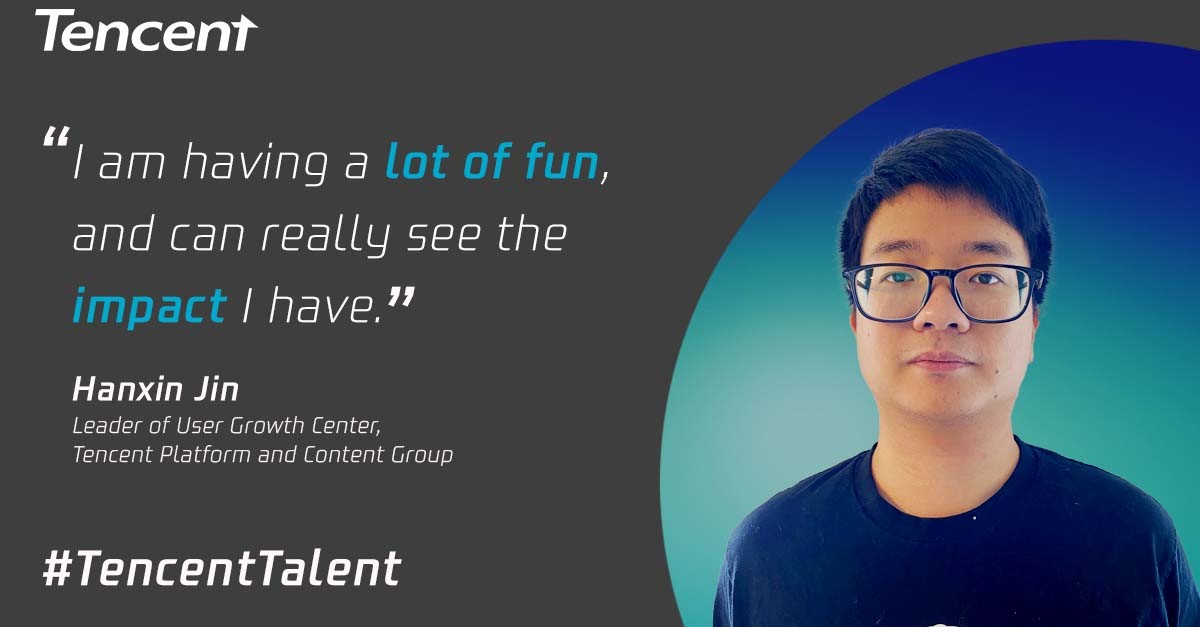 Hanxin Jin, Leader of User Growth Center, Tencent Platform and Content Group
Hanxin is most proud of his work with push notifications, because they are very complicated in China. It is a highly competitive marketplace with each mobile network controlling its own push notifications.
"You cannot just send a push notification whenever you want, to anybody you want," said Hanxin. "You have to strategize and determine how to make the biggest impact within the guidelines."
Hanxin said they have to understand the different policies and manage breaking country-wide news, local or regional news, and interest-specific news. "It's infinitely more complicated, but we built a fairly complex algorithm to achieve the most optimal solution while dealing with these rules," he added.
Hanxin has been in the technology industry for a long time, but working at Tencent has reinvigorated his passion for making a difference in people's lives. "The whole market is moving at a very fast pace," he said. "The market is shifting every day and users' behaviors are ever-changing. Trying to prepare for the future is what drives and inspires me every day."
Xin Pan
Xin Pan is the tech lead of the machine-learning platform department of Tencent's Platform and Content Group. The automation platform built by Xin and his team supports several major businesses including Tencent News, Tencent Video, QQ Browsers, QQ Music and China Literature. These tools serve hundreds of billions of requests and hundreds of million active users every day.
In the past, many product teams had their own technical support groups that provided customized tech solutions for specific products. But after more than two years of hard work, Xin and his team managed to unify the recommendation algorithm framework for the entire business group and improved it to the industry-leading level.
The team concentrates resources to reuse some common technologies and make the underlying architecture accessible and automated, which includes data processing, algorithmic modeling and model launching, among other things. This has greatly improved coordination and efficiency across the entire business group.
To ensure the technology architecture can support different products and businesses, Xin focused on technology versatility. He regularly meets and talks with colleagues from various business lines to understand their needs. Xin and his team then uncover underlying and general needs and create relevant training frameworks and online service platforms to provide the product and business teams with stronger data input and output capabilities.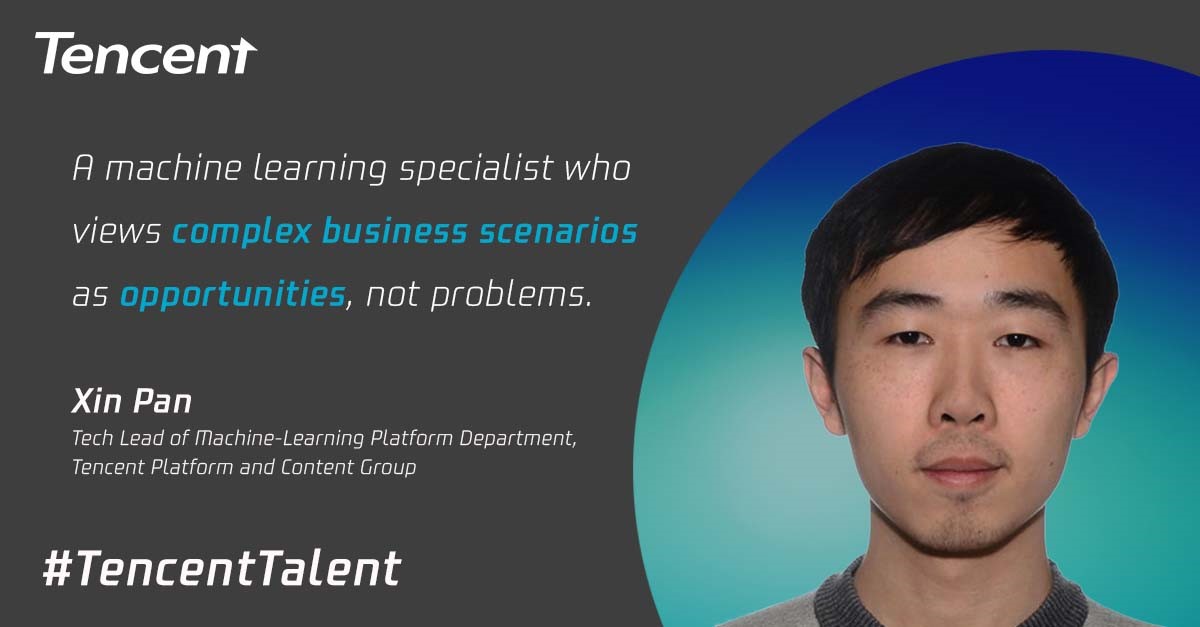 Xin Pan, Tech Lead in the Machine-Learning Platform Department, Tencent Platform and Content Group
In Xin's view, complex business scenarios are not headaches but opportunities. With different industries and different business scenarios, there is always room for technology to play an important role in solutions. From short and long videos to news, information flow services and even e-commerce, Tencent has rich business portfolios and needs that provide Xin more possibilities for technology research and development.
"What we do can make an impact on hundreds of millions of users," Xin says. "At the same time, the machine learning and artificial intelligence we are exposed to are also the most cutting-edge and fastest-growing technologies on the planet. I hope we can make these technologies a positive thing for people, and enable everyone to see the world better."
Xin believes a tech expert must continue to learn, think and make changes. "If you want to keep excelling in technology, you must learn from the leading minds, think and analyze, then put this knowledge into your work," he said. "Additionally, you need to change your own perception and behavior so you can continue to improve. It is my fortune to be able to solve problems with many like-minded colleagues at Tencent."