#TencentTalent: A Spirit of Craftmanship Brings Technology to Life
2021.05.18
Tencent, at its heart, is a technology company. It is home to many young technical team members who are committed to benefiting mankind through the development of cutting-edge technologies. These employees are devoted to the process and firmly believe in the concept of "Tech for Good".
In this week's installment of Tencent Perspectives we meet Deheng Ye and Feeling Fu, who are driving innovation inside Tencent to solve real problems and improve people's quality of life.
Deheng Ye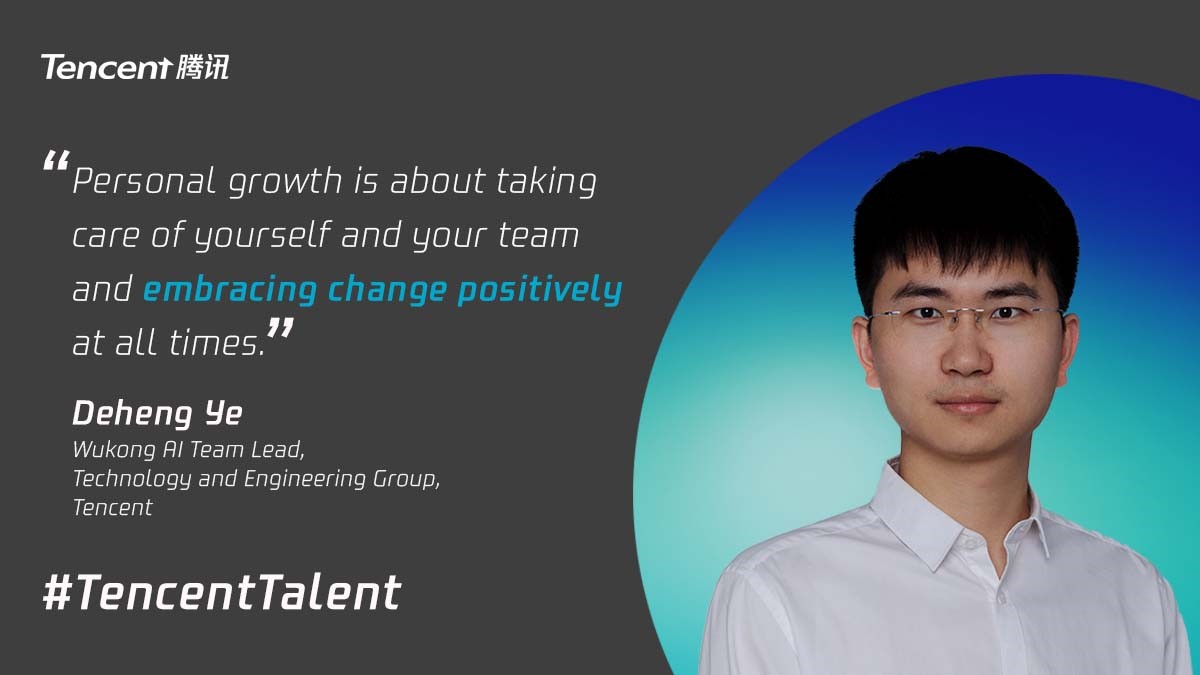 Deheng Ye, Wukong AI Team Lead, Technology and Engineering Group, Tencent
Artificial intelligence (AI) came to prominence in the competitive world of Go, a popular two-person strategy game, when the AlphaGo computer program defeated Go world champion Lee Sedol in 2016. Since that victory, AI has been deployed for intelligent decision-making in many other complex games.
Tencent has become a major force in the use of AI in the gaming world. Dr. Deheng Ye is the Wukong AI Team Lead at Tencent. Every day his team introduces new technologies into real game scenarios to promote machine learning in AI for Games.
"We want to make bots as smart as humans," said Deheng. "Making that come true in the virtual world of such complex games would be a big step forward for AI. This is why I aspired to focus on machine intelligence in my career."
Deheng is responsible for developing key technical solutions to complex problems and leading the team in an effort to break down solutions into action items needed to develop an end-to-end AI platform.
Wukong AI, which is both strategic and collaborative, was deployed to play Honor of Kings, a household multiplayer online battle arena (MOBA) game in China. By battling with real players, Wukong AI continued to hone its machine-learning skills and provide competitors with a formidable challenge.
Honor of Kings is a complex game involving various elements including action control, macro strategy, real-time decision-making, multi-agent collaboration and competition. Honor of Kings also features more than one hundred heroes with various combat skills and styles. The game allows characters to team up, providing totally different cooperation and competition strategies. This poses a huge challenge for intelligent decision-making.
What impresses Deheng the most about AI gaming are the times when Wukong AI actually defeated a professional human team in the Honor of Kings World Champion Cup 2019 in Kuala Lumpur. This achievement helped prove AI's professional capacity.
A corporate culture that provides a lot of room for freedom at Tencent is what attracted Deheng to the company. Around him are goal-driven professionals who are focused, talented and challenged by the world of AI. Tencent also provides flat management, which is a bonus in Deheng's opinion.
Deheng believes a mature mind is his biggest gain so far from his years at Tencent, allowing him to grow from a tech talent to a well-rounded team manager. 
"When I was a doctoral student, I thought personal growth meant developing top-notch technology and making major academic breakthroughs," he said. "Working at Tencent has given me more perspective on this. Personal growth is about taking care of yourself and your team and embracing change positively at all times."
"I cannot simply focus on my own tasks and efficiency," Deheng added. "Maximizing the effectiveness and benefits of the team is more important. We can achieve more when we work as a team than as individuals."
Feeling Fu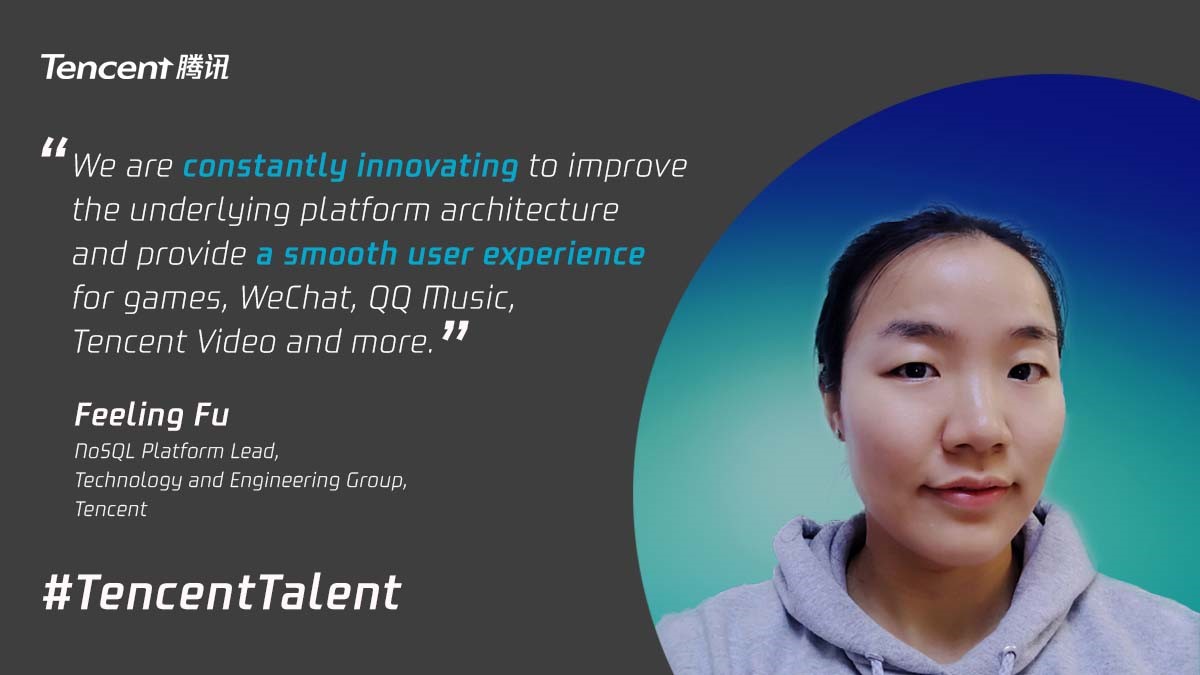 Feeling Fu, NoSQL Platform Lead, Technology and Engineering Group, Tencent
Feeling Fu joined the Tencent Technology and Engineering Group right after graduation. She has been engaged in the research and development of the company's distributed storage system for the past ten years. Feeling's department focuses on file storage, specifically structured data services and directory index storage.
"Shortly after joining Tencent, I took part in a brand-new storage platform project," said Feeling. "At the beginning I was on the periphery, watching how mentors and leaders discussed, designed and verified a new system from the overall architecture to core technologies. As I learned more about the system, I was able to go deeper and even got the chance to develop the critical storage engine myself."
As the new platform went online without a hitch, Feeling and her team began to think about what new requirements Tencent's business scenarios would have on storage. When noticing the strong momentum of games, e-commerce, video and live streaming in 2015, they realized high-performance and low-latency technology would see rapid growth in the near future and the existing technology architecture would soon be superseded by cloud storage.
"Mobile games, video, online shopping and other online services require NoSQL database," explained Feeling. "We are constantly innovating to improve the underlying platform architecture and provide a smooth user experience for games, WeChat, QQ Music, Tencent Video and more. Thanks to Tencent's diversified businesses and scenarios, we are able to accumulate rich experience in these verticals."
Feeling initially became interested in technology when she took a high school computer class. To her surprise, she developed a strong interest in coding and spent all her time in the computer room after school.
After winning first prize in the National Olympiad in Informatics in Provinces at high school, she was recommended for admission to the information security major in college. During her college years, Feeling organized and led a women's computer team that won competitions at all levels.
"When your work is driven by your interests and passions, motivation is unlimited. Knowing that my work will help all walks of life to make a difference gives me a real sense of accomplishment," she said.