#TencentTalent: A Passion for Games Ignites Challenging and Rewarding Careers in Northeast Asia
2021.04.27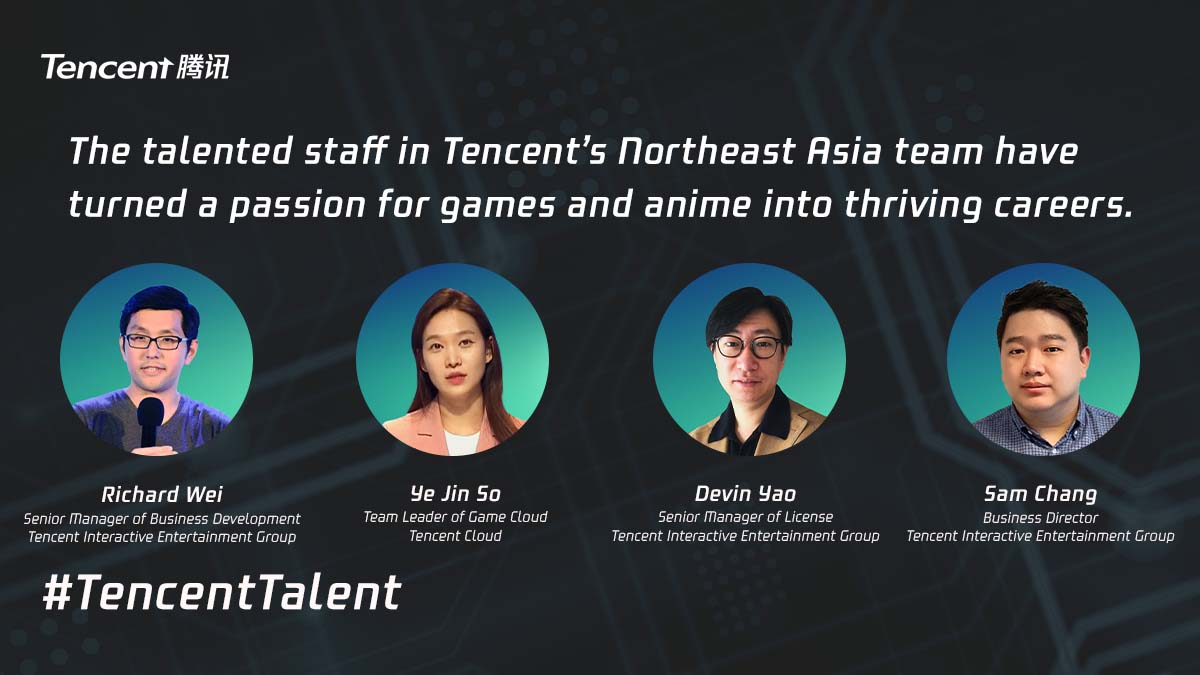 There is an old proverb that says, "If you love what you do, you'll never work a day in your life." For many people, finding a career that fuels their passion and provides inspiration can be a challenge, but not for these Tencent employees. They have turned their love of games and anime into thriving careers.
Meet Sam Chang, Ye Jin So, Richard Wei and Devin Yao who are pursuing their passions with Tencent in Northeast Asia.
Sam Chang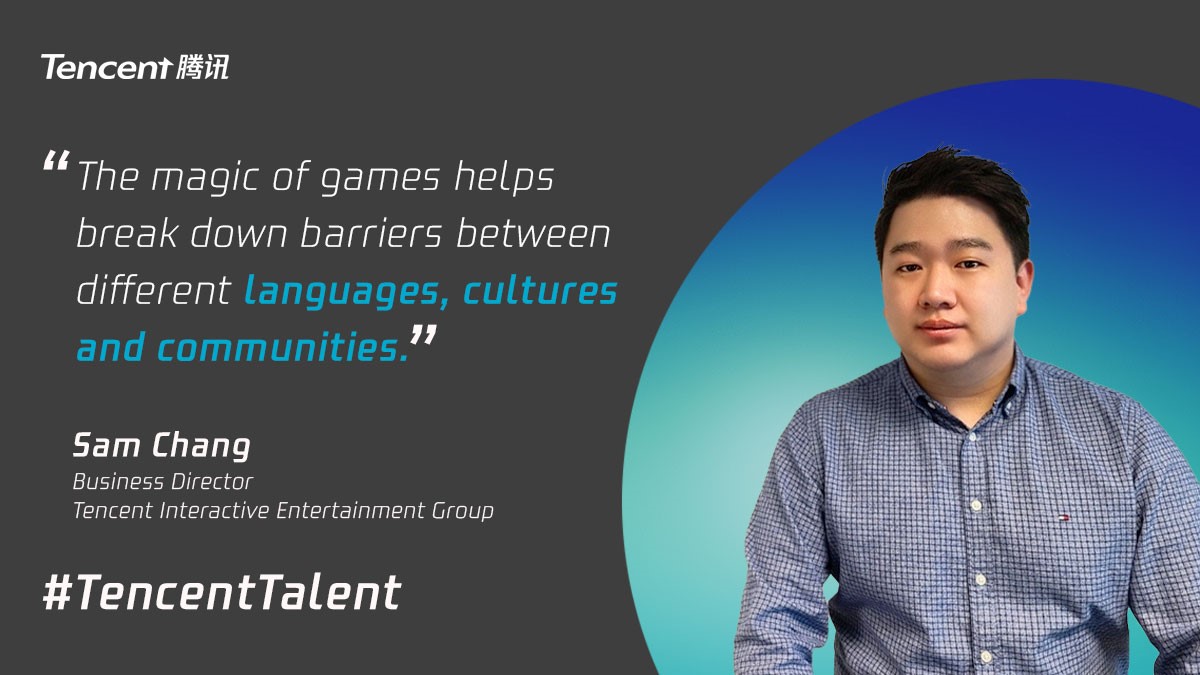 Sam Chang, Business Director, Interactive Entertainment Group, Tencent Korea
As business director of Tencent Interactive Entertainment Group in Seoul, South Korea, Sam Chang oversees Tencent's games business development in the market. He's a diehard gamer who joined Tencent seven years ago, describing his job as, "the best in the world to explore fresh experiences for global users and bring Tencent's quality games experiences to South Korea."
Sam was born in South Korea and came to China with his parents for primary school. That's where he had his first contact with online games, which left a deep impression on him. "Games are a part of my life," he said. "My study-abroad experiences brought me into the magic of games and helped break down barriers between different languages, cultures and communities. I find it meaningful to promote diversified cooperation between countries in games."
When a shooting game became a global hit and inspired many copycats a few years ago, Sam and Tencent's games team reached out to its developers about licensing. In return, Tencent provided mobile game R&D capabilities and global support for the company's marketing and strategic presence overseas. By drawing on respective strengths, the brand has yielded fruitful results in both PC and mobile games globally.
"You can't follow the beaten path or take orders passively because there are many opportunities to be discovered," Sam said. "I will buy nearly all popular games on the market and complete their missions and I often watch news or videos about games, too. Others see games as my work, but for me, it is also a way of relaxing. My hobbies bring value to my work."
Ye Jin So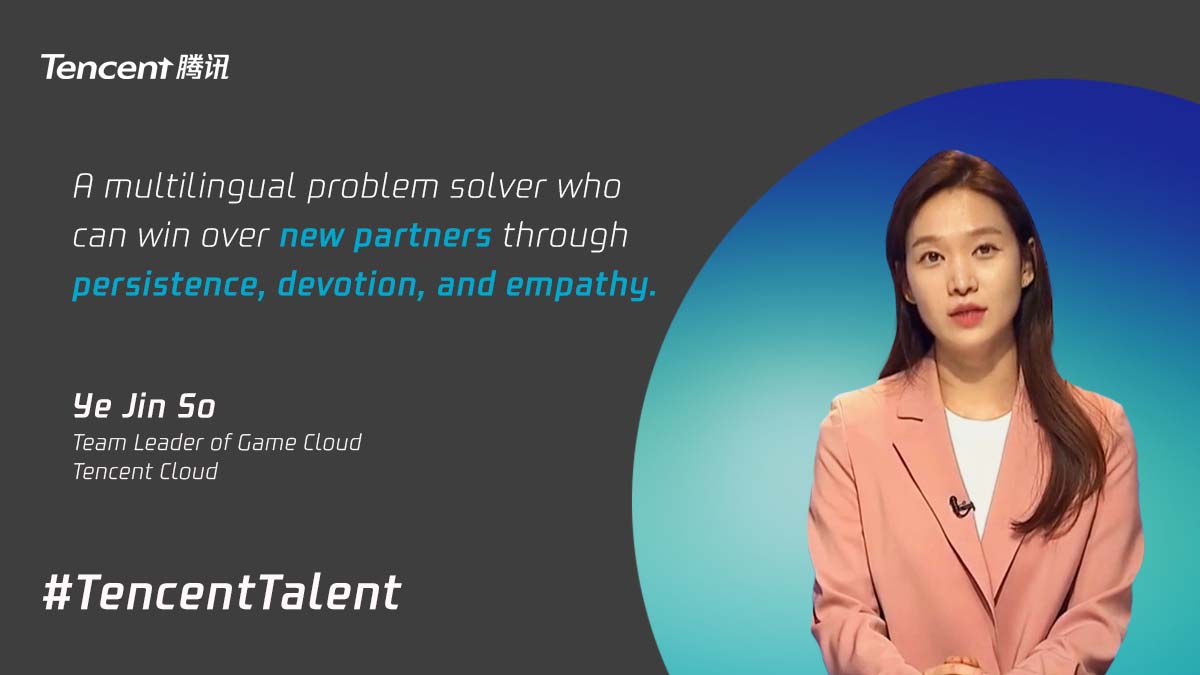 Ye Jin So, Team Leader of Game Cloud, Cloud and Smart Industries Group, Tencent Korea
Ye Jin So, a team leader with Tencent Cloud and Smart Industries Group in Seoul, South Korea, has always enjoyed the process of creating something from scratch, which is why she was thrilled to join the Tencent team.
Ye Jin is responsible for business development and customer relations in the South Korean games industry. She's on top of news data-mining, market surveys and customer visits to ensure she's alert to new industry trends and business opportunities.
Before joining Tencent, Ye Jin worked as a business project manager in another leading game company in South Korea. She speaks Korean, English, and Chinese, which enabled her to work partly as a technical communication specialist to ensure smooth project implementation. She often consulted with the tech team and provided "off-the-record" technical support.
Seeing the irresistible trend towards cloud gaming and the potential of smart industries, Ye Jin decided to aim higher and joined the South Korean team of Tencent Cloud where she heard a local game company was considering migrating its mobile games to the cloud. She knew this was a big opportunity.
"At first, their operation decision-maker seemed unwilling to even test our capabilities, because of a multi-year partnership with a global cloud service provider," Ye Jin said. But she did not give up. She maintained contact with the decision-makers via emails, phone calls and on-site visits. She presented the technical strengths and success stories of Tencent Cloud, as well as the solution tailored to the company, trying every means necessary to get a foot in the door.
Thanks to her persistence, Tencent Cloud earned the opportunity to do performance testing, which demonstrated exceptional compatibility and overall capacity – and ultimately a new contract and partner.
"The rapid growth of Tencent Cloud in South Korea has brought every one of us room for self-development," said Ye Jin. "I find Tencent a great place for devoted, self-driven employees."
Richard Wei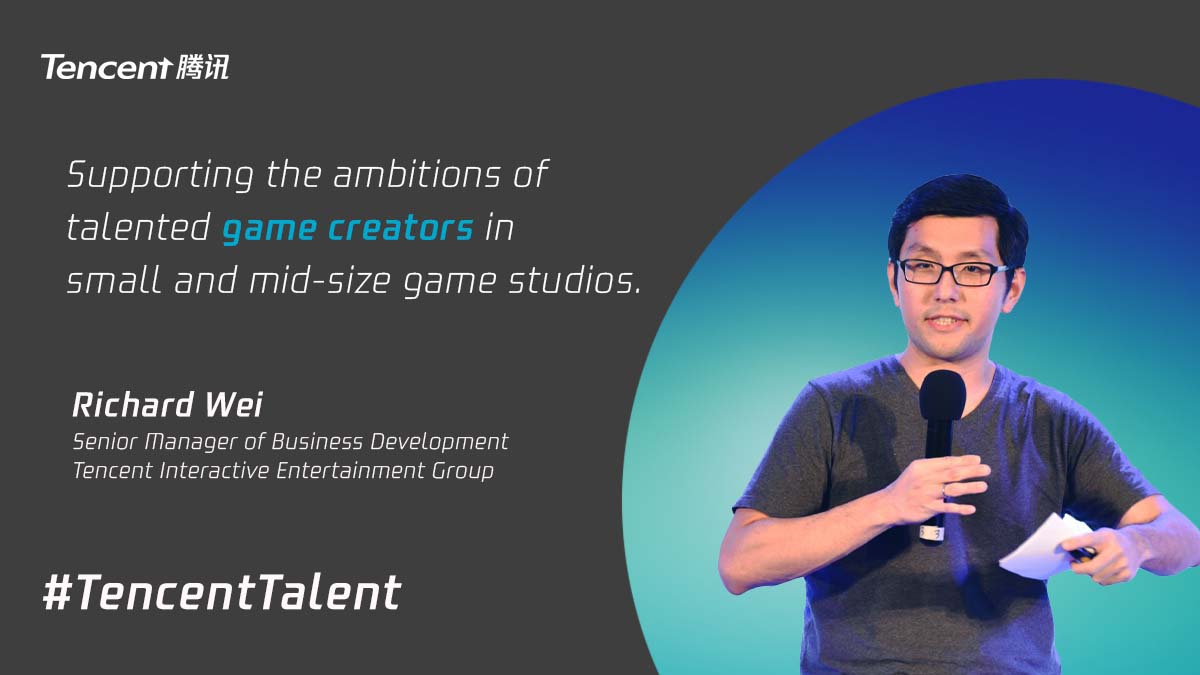 Richard Wei, Senior Manager of Business Development, Interactive Entertainment Group, Tencent Japan
Richard Wei, a member of the Tencent Interactive Entertainment Group's business development team in Tokyo, Japan, feels the company is the right place to work for those looking to challenge themselves.
"Tencent encourages innovation and breakthroughs, and everyone is open-minded," he said. "Everyone can find a lot of opportunities to try something interesting as long as you have ideas, enthusiasm, the ability to find unmet needs and learn quickly."
Richard moved from Hubei in Central China to Montreal, Canada, when he was just 10 years old. Richard was lonely in his early days in Canada, partially because of the language barrier and partially because of general cultural differences. He often found comfort and camaraderie playing a text-based online game.
Before joining Tencent in 2016, Richard worked in the investment bank industry. His first role at Tencent was game and IP licensing. He helped introduce some of the first Japanese games into the WeGame store for Tencent. Afterwards, Richard worked on the launch of a popular game console in China by acting as a front-line business relation manager. Now he works on investments and project finance into small-mid size game studios, supporting the ambitions of talented game creators.
To help Japanese partners learn more about Tencent and the Chinese video game market, Richard often invited them to tour Shenzhen, Shanghai and other cities in China. "It's very important to let global partners see the modern China, especially its vibrant video game market, with their own eyes. I'm proud to make a little contribution to the mutual understanding between China and the rest of the world," Richard said.
Devin Yao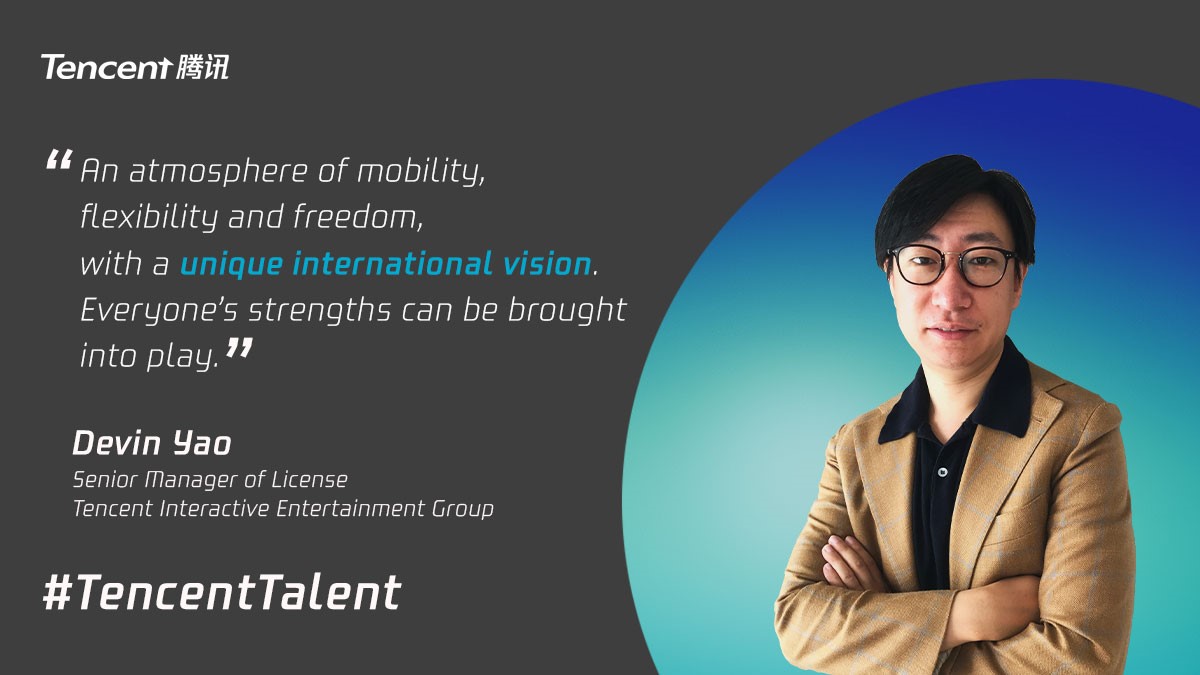 Devin Yao, Senior Manager of License, Interactive Entertainment Group, Tencent Japan
Like many kids of the 1980s and 1990s, Devin Yao, a member of Tencent's Interactive Entertainment Group's Publishing Line in Tokyo, grew up watching Japanese animation and manga. In an effort to get closer to the Japanese entertainment industries and uncover "how good content is created," Devin came to Japan in 2017 after he worked in the entertainment industry for nearly a decade.
"Tencent Japan maintains an atmosphere of mobility, flexibility and freedom, and has a unique international vision. Everyone's strengths can be brought into play here, which is why I enjoy working here very much," he added.
Devin's role at Tencent is to publish and license content between China and Japan. In his work, he has more opportunities to get in touch with well-known artists and keep learning from their successes. Gradually he has deepened his understanding of the Japanese entertainment content-industry chain, fulfilling his original aspirations.
"In the future, mankind's pursuit of entertainment behaviors will also have some commonalities. The game industry will become more and more internationalized and developers will be passionate about providing better entertainment content for users all over the world," he said.