Perseverence is Critical to Succeeding on Screen or Behind the Camera, according to Vice GM of Film and TV Content Suan Fang
2022.03.10
To celebrate International Women's Day we are publishing a special series, "Women Who Lead," to give female leaders at Tencent the opportunity to share their stories and reflect on their career and life.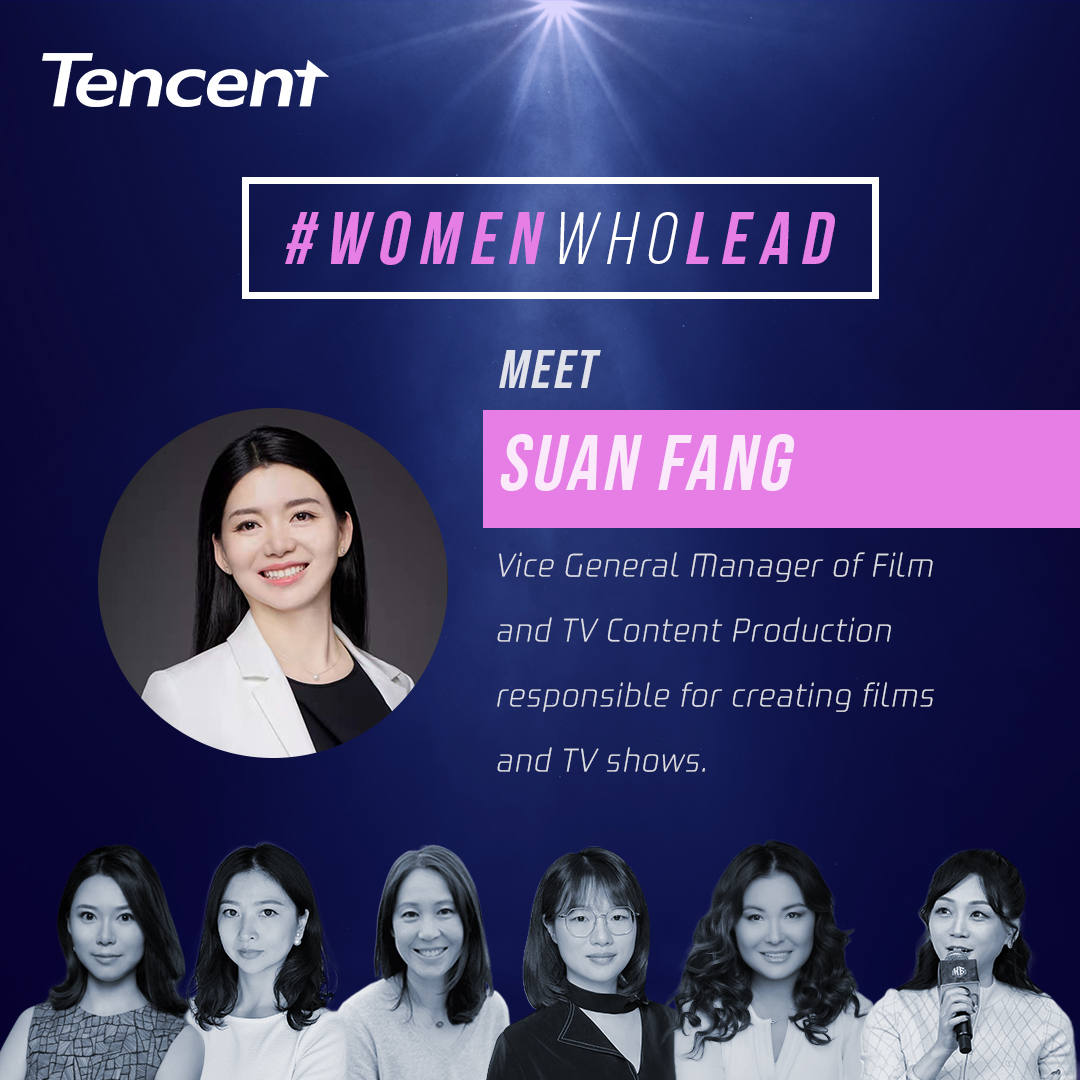 In today's story, we speak with Suan Fang, the Vice General Manager of the Film and TV Content Production Department at Tencent's Platform and Content Group (PCG). Suan shares her journey at Tencent and her most memorable experience.
The following conversation has been condensed and edited for brevity.
Q: Why did you join Tencent?
A: Before joining Tencent in 2011, I had worked as a journalist for seven years. I changed my profession when joining the company because I was looking for new challenges. Many of my friends and colleagues didn't understand why I switched to an internet company at the time, which entailed many uncertainties.
However, I believed that the new position at Tencent would offer me a different path in the future. After only one day of consideration, I resigned and started my career here.
Q: What is your journey in film and TV content production?
A: When I first came to the company and helmed the entertainment news section, there were only two team members, and it took me almost two years to grow the team into 30. My duties in the company were not easy, but I gained a great sense of satisfaction from dealing with the challenges.
Three years after I joined Tencent, the production industry changed dramatically. People realized that investing in original film and TV series productions can generate enormous value. At the time, Tencent Penguin Pictures was established and started to produce original TV series. Being passionate about the entertainment industry and TV dramas, I decided to take on a new challenge and join the team for film and TV content production.
It is always challenging but interesting to be part of the production industry where things are so dynamic.
Q: "Candle in the Tomb" is the first TV series you created. Could you share more about it with us?
A:"Candle in the Tomb" has been a famous fantasy novel series in China for many years. Since secondary school, I have dreamed of seeing it made into a TV series as I thought it would be really cool.
It took six months of negotiations with the intellectual property (IP) owner to get permission for the production.
However, we faced a bigger challenge. To ensure the quality and the success of the TV series, we had to find the best crew.
As we were completely new to the industry and had few connections with production houses, I had to spend months networking and trying to persuade Mr. Kong Sheng, a famous director, to take charge of the production.
I was under great pressure. Almost eight months had passed since we got the filming permission. We had to kick-start the shooting soon, but I was not sure what I would do if I failed to persuade Mr. Kong. We appealed to him many times, and fortunately he finally agreed to direct the series. I couldn't help but shed happy tears when I heard the news.
Q: What is your advice to people who want to join the production industry?
A: First, I think it is important to persevere. The production industry is filled with unexpected events and challenges. Without perseverance, it would be difficult to deal with them.
Second, you need to be thoughtful and helpful. Although it seems like everyone is capable of doing their own job, you always need help from others. Try to be thoughtful and help your colleagues. A project can never be successful without cooperation and help.
Third, you shouldn't be satisfied with your current achievements. There is always room for improvement in this industry. That's why we can't be complacent and should strive to do better.
Q: What do you think about how females are portrayed in Chinese film and TV productions in recent years?
A:Actually, how female characters are portrayed in films speaks volumes. In recent years, the female protagonists in films and TV series no longer conform to a gender stereotype. There are more multi-faceted heroines, which truly presents the comprehensive image of women in society.