Push Your Limits: Nicole Cai, Director of the K6 Community Center
2022.03.17
In celebration of International Women's Day we are publishing a special series, "Women Who Lead," to give female leaders at Tencent the opportunity to share their stories and reflect on their career and life.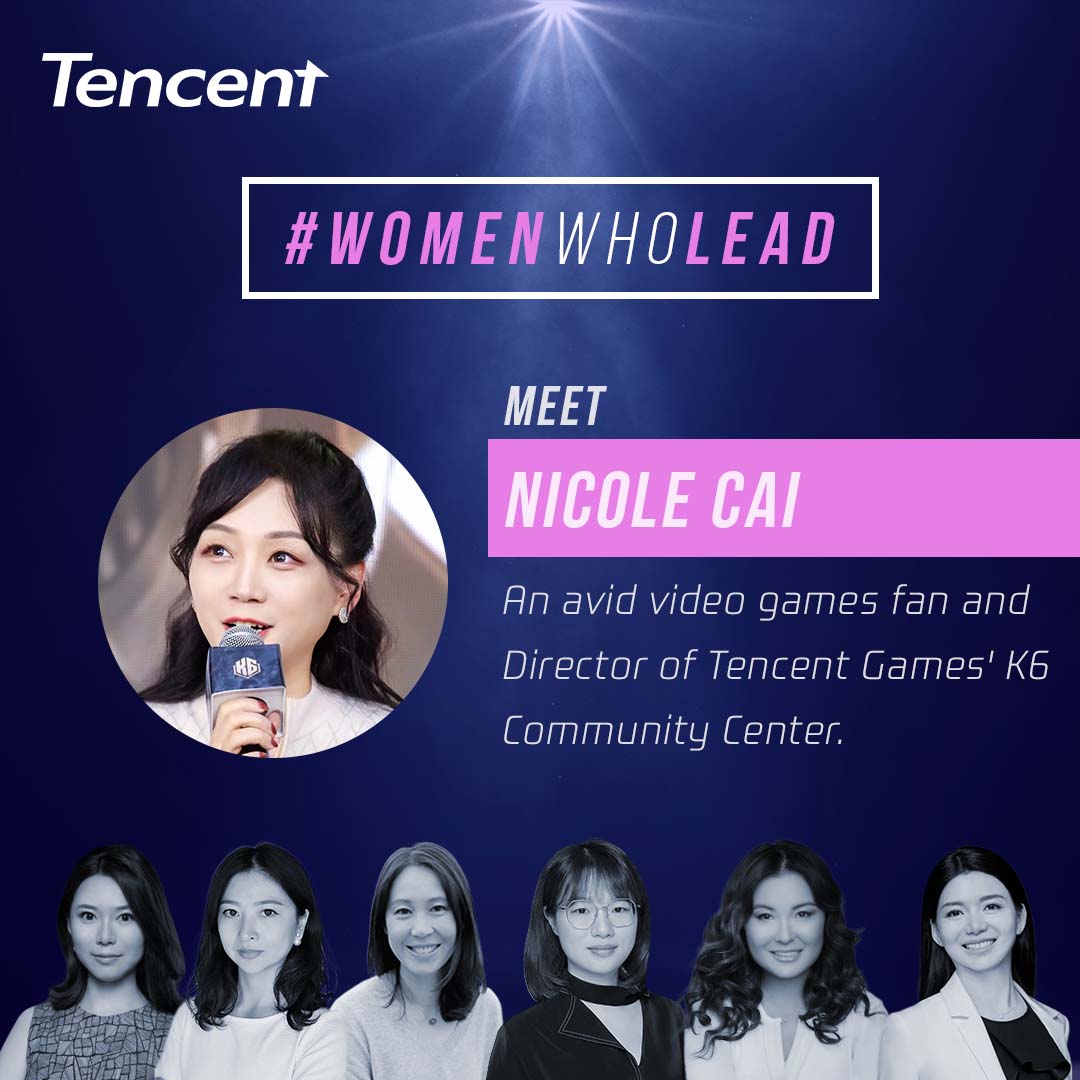 In today's Tencent Perspectives, we speak to Nicole Cai, director of the K6 Community Center. Before joining Tencent in 2017, Cai had worked in the telecommunications industry for over 10 years.
The following conversation has been condensed and edited for brevity.
Q: Why did you join Tencent and what do you do here?
A: After graduating from college, I worked for telecommunications giants ZTE and Huawei in their global marketing units. In 2016, I felt that I had been in the industry for too long and it was time for me to take up some new challenges.
I've always loved playing video games since I was a little girl, so I wanted to explore the industry professionally. I joined a local game publisher in Shanghai and took charge of its global publishing. A year later I entered Tencent to work on a popular multiplayer online battle arena (MOBA) game called "Arena of Valor," focused on building its global community and publishing.
I am currently the director of K6 Community Center, which is responsible for building and maintaining the Riot Games ecosystem in China. By expanding our online platforms, distribution channels and number of creators, we can better serve League of Legends(LOL) players, building a solid user base for the game's long-term development.
Q: What kind of challenges have you encountered at Tencent and how have you dealt with them?
A: When I first came to the K6 Community Center, I saw room for improvement in work efficiency. Some of our functions overlapped with other teams and there was a need to clarify some roles and responsibilities. It was a great challenge for me to make the Center even better. 
Trust is the very foundation of everything at work, and I focused on improving our business structure to gain trust. The next steps were setting clear goals, and then aligning them with our business partners and publishing channels to achieve common goals. This allowed us to cooperate more effectively.
My team is now two or three times bigger than when I joined, and we have made significant progress in that time.
Q: You have achieved so much in a short time. Could you tell us about your secret to success?
A: I started to set goals for myself when I was a student. I would break down a big goal into smaller goals because they are easier to achieve. The satisfaction from achieving each one is motivation to move forward and get closer to the bigger goal.
I set a goal every year and reward myself when I achieve it. You must get a reward because it will become something that encourages you to work harder.
Q: How do you see LOL evolving in the future?
A: LOL has a well-established ecosystem including games, animation, music, stories, and e-sports. It has a considerable number of active users and is popular on gaming platforms and online forums. I see LOL as a game for people to play and as a medium for people to communicate and interact. 
Last year, when Edward Gaming (EDG) won the world championship of LOL, we saw the impact that LOL is having on society. There was extensive coverage in local and overseas media and people talked about the final game.
For now, we are focused on creating better content and communicating with players about what we are doing to build a solid foundation to explore possibilities in the future.
Q: The Women's Day theme this year is "Break the Bias." What does that mean to you? 
A: Bias, as I understand it, is someone's opinion of you. Whether it's something good or bad, it's your choice whether to accept their view or not.
My advice is to be yourself and not focus too much on what others say about you. You should be clear about your goal and not let yourself look back with regret.