When Passion Becomes Your Profession: Aviva Li, Vice GM of the Film and TV Content Production
2022.03.14
In celebration of International Women's Day we are publishing a special series, "Women Who Lead," to give female leaders at Tencent the opportunity to share their stories and reflect on their career and life.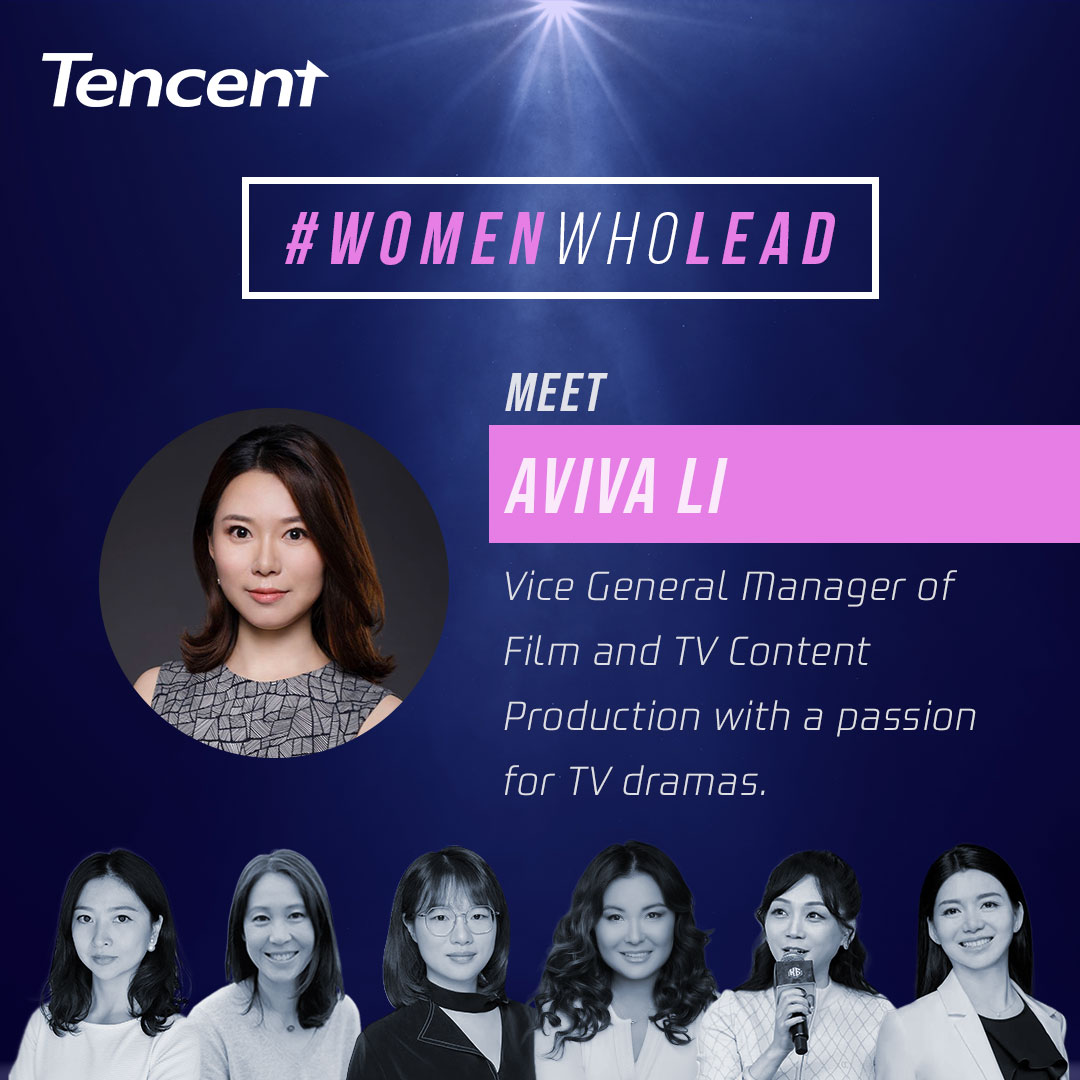 Aviva Li has always found her inspiration from watching TV dramas across different genres. In recent years, she saw more and more small productions building their presence and making headlines globally.
In honor of International Women's Day 2022, we speak to Aviva Li, vice general manager of the Film and TV Content Production at Tencent. She shared her journey to land her current role and learnings from her experience in the industry.
The following conversation has been condensed and edited.
Q: What made you decide to join Tencent and pursue this role?
A: I joined Tencent in early 2005. I was responsible for providing connecting tones for mobile phone users. Tencent was not as big as now back then, but people knew it was the company that built QQ, which was the most popular messenger application.
In 2007, I was given an option to continue my career in the same team, or to engage in digital media services. I chose the latter as I saw a greater potential in the industry. And with the department restructuring in 2011, I got a chance to focus on the online video business, which then offered me opportunities to expand my portfolio into film and TV content production.
Q: You are now a successful producer making TV dramas. What drives your passion?
A: It's not easy, but enjoying what you do always helps with achieving more in your career. My passion for TV drama has never waned. I have always enjoyed watching TV dramas since I was a kid. It is difficult for you to succeed in this industry if you treat it as a job only. You need to devote time and energy and be truly interested in it.
Having true passion is important as it makes you have the willingness to learn. I was majoring in computer science but I was confident that I'll bring ideas about the latest trends and analysis of successful TV shows, after watching all the TV dramas and looking deeply into what worked and what didn't. Up until today, I watch TV dramas whenever I am free. You can always find inspiration through different plots.
Q: Last year, your TV series, The Imperial Coroner (2021), received a good rating. Can you share an interesting episode from the production process?
A: The Imperial Coroner was produced with a very limited budget. To save costs, we casted young actors who were less famous for the lead roles. The actors' costumes are skimpy and some didn't even fit.
Surprisingly, the feedback was highly positive. Audiences were impressed by the well-planned script and its unique filming style. Besides, the main characters have attracted many audiences from the advanced age group.
I always believe that it is not the budget that determines the rating, but how we target the audience and create something that meets people's expectations and appetite. And through The Imperial Coroner, I see how small, low-budget productions have a competitive edge from that perspective.
Q: What positive impact do you think film and TV shows can bring to the world?
A: I feel that there is a lot of negative issues in the world nowadays and I really want to provide positive energy through TV dramas. 
The least we want to do through our work is spreading negativity, especially when knowing your kids will grow up watching them. At the end of the day, I still want shows on TV to deliver positive messages about humanity.
Of course, we all know selling anxiety is a good way to go viral and gain more views. But this is what the team has been avoiding to do. There is enough negativity, and we don't want to add fuel to it.
Q: Do you have any advice for people considering a career in the film and TV industry?
A: It's always a plus to show your ownership in projects you're on. Your work shouldn't be just about keeping your seat between 9am-6pm but making things better.
Having a strong sense of ownership will free you from holding on to personal gain or loss, but focus on the actual work and the quality of your output.