Investing in the Planet's Future: Eleanor Chang, Tencent Executive Director of Investments
2022.03.11
To celebrate International Women's Day we are publishing a special series, "Women Who Lead," to give female leaders at Tencent the opportunity to share their stories and reflect on their career and life.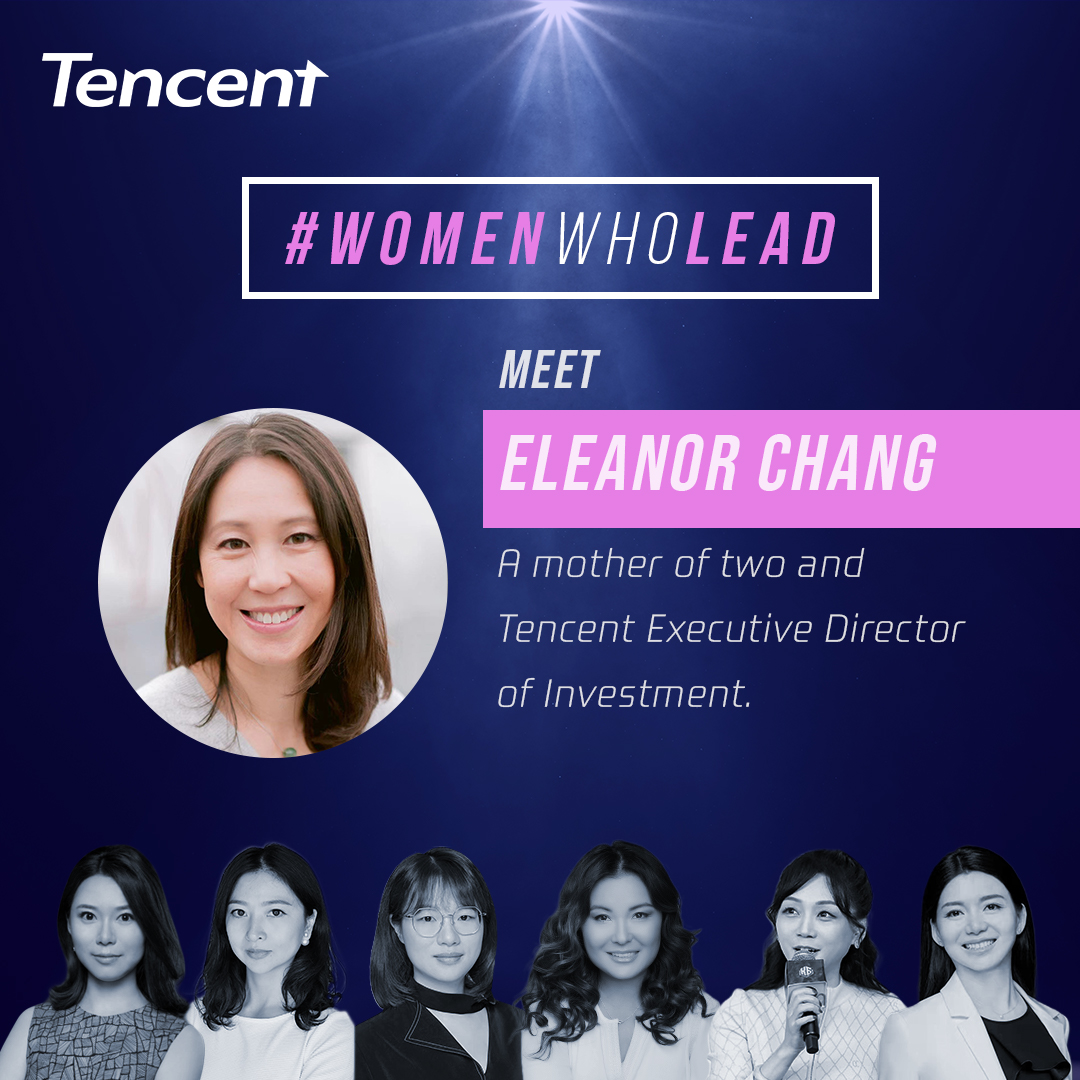 In today's Tencent Perspective, we speak to Eleanor Chang. She talks about her current role, responsibilities and involvement in societal initiatives.
The following conversation has been condensed and edited.
Q: What do you do at Tencent? What kind of projects you are currently working on?
A: I am the executive director of Investments at Tencent's Exploration Team. I lead investment on behalf of the team, and I have been with the company for over 10 years.
Alongside legacy investments, we invest in entrepreneurs who are building technologies for "a more resilient planet" across industries such as health and biotech, energy, water and sustainability initiatives. Every day our team is trying to identify companies and entrepreneurs who use technology to improve people's quality of life.
One of the things that we do is look at things like food, energy, and water that are becoming depleted by the growing population. We try to find out how technology comes into play in terms of making us more optimally and efficiently use the resources.
Q: What made you choose Tencent to pursue this career?
A: When I first joined Tencent, I was hired for a strategy and investments role. During my interview process, I had great conversations with everyone, and I admired the culture they showed me. 
Prior to joining Tencent, I was a management consultant and an investment banker, but I had never done venture investing. I felt like I would have a good group of mentors to help and guide me with their experiences in those areas.
Q: Tencent focuses on creating social impact. Are you involved in any societal initiatives in the company or the community?
A: I have worked on various different initiatives at Tencent. Last year during the pandemic, I worked on supplying PPE (Personal Protective Equipment) donations to hospitals and organizations in the U.S. Because many of the PPEs were manufactured and supplied from China, I worked with different organizations within Tencent to make sure that local hospitals and health organizations had access to them.
I think that is just one of the very many areas where Tencent steps in to help in areas where it can globally. We've made differences for hospitals and organizations in critical moments by providing masks, ventilators and protective gowns.
Outside of Tencent, I work with my community a lot. I spend a lot of time at my children's school and with other organizations to help with donations of food and supplies for those in need.
Q: What inspired you to help out with your community?
A: Ever since I was very young, I've worked with different organizations to mentor children. My kids go to an after school where they teach Chinese for Chinese descendants in San Francisco, and I just felt like it was a really good opportunity for me to get involved with the school's community.
I try to work with my kids to help them understand that we must give back to the community and explore different ways to do that. Over the holidays, we packed a lot of care packages for patients who have health issues so that they can understand what they can do for others, and they see what their parents are doing and how they can contribute.
Q: Being a working mom, how did you achieve the balance between work and personal life?
A: The work-life balance provided by the company is very important to me, as I wanted to start a family when first joined the team. I didn't want to worry about choosing between my job and having children.
Fortunately, there was a lot of understanding from the team and I was able to work remotely.
It was very clear to me that being at my desk was not as important as what I was able to contribute and do remotely. I really appreciated the company for allowing me to balance being a full-time employee and being a mom.
Q: What do you want to do next?
A: I think what has been really amazing about my role at Tencent is that I am meeting entrepreneurs in different industries. I am learning about different sectors and cultures, as well as making an impact through investments. I envision myself working with entrepreneurs in sectors like mobility, food supply, and energy, among others. To me, working with new companies is also a valuable experience.
I also hope to see more diverse representation in the investment world. I have been in boardrooms where I am the only female, or I am the only Asian person in the room. I can see different people being there, setting an example and providing different perspectives. That is something I would love to focus on a little more.
Q: As a female leader, what advice would you give to women working in the tech industry?
A: I think that finding a role model to learn from is important for women working in tech. It is really important to find people that you admire and try to build relationships with them so that you can take their advice when you are at crossroads.
Moreover, your personal values should be more emphasized than your gender at work. I think it is important to bring in a female perspective, but you have to present yourself as who you are as a person and what you believe in.